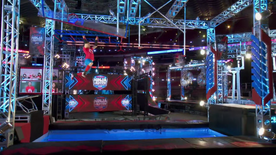 The Ring Chaser is an obstacle, firstly introduced as the third obstacle during the first episode of qualifiers on American Ninja Warrior 12.
Competitors must first work their way through a series of monkey bars that was on a slight incline. Once the competitors applied their weight on the first monkey bar, a ring (fourteen inches in diameter) would start rolling down on the side, and the competitors must be quick enough on the monkey bars to grab it as it fell. Using this ring, competitors must then make a jump (almost identical to the Sky Hooks) before finally dismounting to the landing platform.
If they were not quick enough to grab the ring, they must make the jump using a much smaller ring (eight inches in diameter) hanging at the end of the monkey bars (which had handles to hold on to), but this would make the jump much harder, as it required more coordination and precision.
On the first episode of the qualifiers, while several top competitors missed the large ring, including Allyssa Beird and Grant McCartney, most of them were able to make the jump with the smaller ring. In all, only 5 of the 27 competitors who attempted the obstacle failed to complete it.
On the second qualifiers episode, however, more competitors fell here, as a total of seven competitors fell, including JJ Woods, and most shockingly, Caleb Bergstrom.
Other Appearances
Australian Ninja Warrior
On Australian Ninja Warrior 5, the Ring Chaser appeared as the fourth obstacle in Heat 1 and Heat 3. This time, another set of cradles was added after the first one, and the ring would be used in this pair was fixed as the large one. The obstacle was also paired with the Clockwork as part of the Crossroads' Path B.
Competitors' Success Rate
All results based on the NBC broadcast and external information found
| ANW | Clears | Attempts | Percentage |
| --- | --- | --- | --- |
| ANW12 (QF EP 1) | 22 | 27 | 81.48% |
| ANW12 (QF EP 2) | 23 | 30 | 76.67% |
| Total | 45 | 57 | 78.95% |
Trivia
External Links