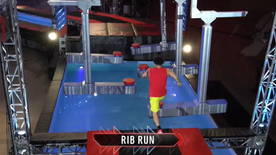 Rib Run is an obstacle first introduced as the fourth obstacle in the first episode of qualifiers on American Ninja Warrior 12.
The concept of this obstacle was similar to the Quintuple Steps or Rokudantobi, where competitors must run across five steps to reach the landing platform. However, each of the steps for the Rib Run was rounded and attached to a pendulum similar to the one used on Swing Surfer that would swing perpendicular to the competitor. On this obstacle, the left side of the obstacle featured two steps, while the right side featured three steps.
On the first episode of the qualifiers, the obstacle was proven to be slightly easy, as it only eliminated four competitors: Robert Moffitt, John Huie, Sloane Cameron, and Dave Cavanagh. Coincidentally, the former two competitors were part of Allyssa Beird's team, while the latter two were part of Cavanagh's team.
On Night 2, once again four Ninjas fell on this obstacle: Christi Marie, Zane Paksi, Holly Cavazos and Taylor Amann.
Other Appearances
Ninja Warrior Germany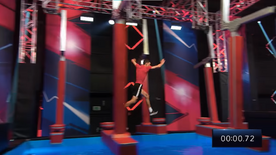 On Ninja Warrior Germany 6, the Rib Run appeared as the first obstacle in the Semi-finals. This time, the arrangement of the steps were different, with three steps on the left side of the obstacle, while the right side featured two steps.
Ninja Warrior France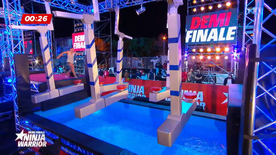 Les 5 Crochets, Ninja Warrior France's official name for the Rib Run, would appear in Ninja Warrior France 6 as the third obstacle of the Semifinals. This would have a similar configuration to its appearance on American Ninja Warrior 12.
Competitors' Success Rate
All results based on the NBC broadcast and external information found.
| ANW | Clears | Attempts | Percentage |
| --- | --- | --- | --- |
| ANW12 (QF EP 1) | 18 | 22 | 81.82% |
| ANW12 (QF EP 2) | 19 | 23 | 82.61% |
| Total | 37 | 45 | 82.22% |