The Rail Runner is an obstacle, firstly introduced as the fifth obstacle on American Ninja Warrior 9 in Denver.
Competitors have to hold a pair of handles and slide it to an 11-foot track with different angles, then they must make a 3-foot transition to another pair of handles and must slide again to an 11-foot track (also with different angles).
With the design of the handles being shaped like an inverted 'U', there were times when the handles could go lopsided on the rail (either go to the left or to the right).
During Denver qualifiers, the obstacle was proven to be brutal, as many competitors who did not have enough stamina to slide the handles, usually were moved back at a downward slope, delaying progress and depleting competitors' energy to hold on. A total of 24 competitors (such as Brian Arnold, Karson Voiles, Sam Sann, Michael Silenzi, Meagan Martin, Jeri D'Aurelio, Tammy McClure, Ben Antoine, Dalton Knapp, Yancey Quezada, and Michael Stanger) fell on this obstacle, and only eight competitors completed it. Ultimately, those eight competitors would become the only finishers, setting a record as the second lowest amount of finishers during city qualifiers in American Ninja Warrior history (after Venice Beach qualifiers on American Ninja Warrior 7, with seven finishers).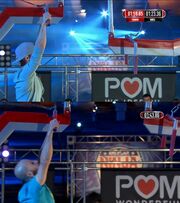 A unique and painful elimination occurred during Denver qualifiers, when Brian Arnold hit the second rail with his nose while transitioning from the first pair of handles to the second, which was due to the second rail positioned lower than the end of the first rail. Because of that, during Denver finals, the second rail was moved higher than during Denver qualifiers to prevent that happened again (which made the end of the first rail was equally high with the start of the second rail). As a result of this change, only 4 competitors failed on this obstacle: Kyle Wilson, Jeri D'Aurelio, Larissa Cottle (who attempted the obstacle for the first time as she failed the previous obstacle in qualifying) and Andrew Duncan (who completed this obstacle during Denver qualifiers).
Other Appearances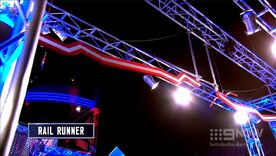 On Australian Ninja Warrior 2, the Rail Runner appeared as the fifth obstacle in Stage Two, which was very similar to the one used during American Ninja Warrior 9's Denver finals (since the end of the first rail was almost equally high with the start of the second rail).
Competitors' Success Rate
All results based on the NBC broadcast and external information found
| ANW | Clears | Attempts | Percentage |
| --- | --- | --- | --- |
| ANW9 (qualifiers) | 8 | 32 | 25% |
| ANW9 (finals) | 21 | 25 | 84% |
| Total | 29 | 57 | 50.88% |
Trivia
The Rail Runner had a similar concept to the Battering Ram, as it consisted of an apparatus that competitors had to hold on to while moving down a track, as well as separate tracks, where it was difficult to make the transition from one apparatus to the other.
External Links