R.J. Roman is a musician from Jacksonville FL. Roman is currently the bass player for the band Emuness, which he has played ever since childhood to cope with his personal stress.
R.J. has a twin brother named Robert, who serves as the drummer in Emuness.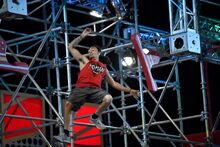 R.J. first competed in Miami in American Ninja Warrior 10. In qualifying, he failed the Slippery Summit but placed 14th overall at the end of the night. In the city finals, he got redemption on the Slippery Summit despite a few struggles. However, he later continued all the way to the Crazy Clocks until gassing out. At the end of the night, he placed 11th overall and advanced to Vegas in his rookie season. His run on Stage 1 was digested but it was shown that he finished with 21.90 seconds remaining. On Stage 2, he failed Wingnut Alley, and was one of the top rookies that year along with Zach Day and Mathis Owhadi.
He returned in Atlanta on American Ninja Warrior 11. This season, he was determined to participate in the Power Tower showdown. In qualifying, despite struggling on the Bouncing Spider, he still blew through the course with relative ease. Unfortunately, he just missed out on the Power Tower, as Tyler Gillett and Drew Drechsel beat him as the top 2 of the Atlanta qualifying round; he placed 3rd overall. In the city finals, his run was digested, but it was shown that he gassed out at the end of the course, failing Spider Trap. In Vegas, despite a near fall on Tire Run, Roman made it past Stage 1 for the second year in a row. He was also one of 21 competitors to complete Stage 2 that year. On Stage Three, however, he fell very early at the second obstacle, Iron Summit.
Results
Community content is available under
CC-BY-SA
unless otherwise noted.