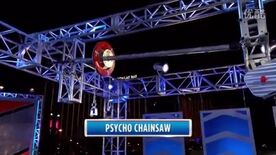 The Psycho Chainsaw is an obstacle, firstly introduced as the first obstacle in Stage Three on American Ninja Warrior 7, replacing the Cannonball Incline from the previous season.
Competitors must grab a set of handles (which were attached to a chain on each handle), and then pumped their arms up and down to move the disk (which were attached to the chains) down the track. Once the competitors reached the end of the track, they must make the transition to the next obstacle (the Doorknob Grasper). 
This obstacle was proven to be extremely easy, as no competitors failed on this obstacle (or even showed struggle while attempting the obstacle).
Originally, the Psycho Chainsaw was supposed to be the first obstacle in Stage Three on American Ninja Warrior 8, and immediately followed by the Keylock Hang (seen via Crashing The Course). However, on the last minute, the producers decided to remove it for unknown reason and replaced the obstacle with a trampoline and two laché bars, as a medium to the Keylock Hang. As the result, the number of obstacles during American Ninja Warrior 8's Stage Three was reduced from 8 to 7.
Competitors' Success Rate
All results based on the NBC broadcast and external information found
Community content is available under
CC-BY-SA
unless otherwise noted.