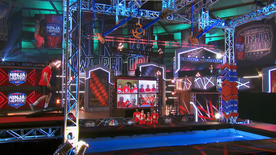 The Pretzel Twist is an obstacle, firstly introduced as the fifth obstacle during the third episode of qualifiers on American Ninja Warrior 13.
The obstacle consists of three bars with pretzel-shaped handles on them, each at different angles. Initially, competitors must rotate the first handle to the left in order to unlock the bar, allowing it to swing back and forth. Then they must allow the bar to be locked into place by building up swing and momentum. Next, they have to reach across to grab another handle, and get the ring off the hook, once again building up swing to lock it in. Finally, just like the first part, they must unlock the third handle and swing to the landing platform.
This obstacle was proven to be difficult, as a total of 17 competitors failed on it in the third episode of qualifiers. Notable competitors that failed it in that episode included Charity LeBlanc, Alyssa Varsalona, Devin Harrelson, Todd Bourgeois, Glenn Davis, DeShawn Harris, Josiah Singleton, Brad Giles, Nico Gentry, Tony Miles, Ben Whitlow, and K.C. Boutiette. However, since 29 competitors attempted it, everyone that made it to the obstacle automatically advanced to the semifinals.
In the fourth episode of qualifiers, a total of 19 competitors failed the obstacle, including Brian Kretsch, Allyssa Beird, Abby Clark, Austin Gray, Judas Licciardello, Casey Rothschild, Addy Herman, Rachel Degutz, Mike Wright, Chad Flexington, Luciano Acuna Jr., Anthony Eardley, Logan Kreglow, Paul Fisher, John Uga, Quinn Nguyen, and Adam Nasser. This time, since more competitors attempted the obstacle, it became the cut-off for not only the regular top 30, but also the womens' top 5. Additionally, a total of six female competitors attempted the obstacle, with Meagan Martin being the only one to finish the obstacle.
Competitors' Success Rate
All results based on the NBC broadcast and external information found
| ANW | Clears | Attempts | Percentage |
| --- | --- | --- | --- |
| ANW13 (QF EP 3) | 12 | 29 | 41.38% |
| ANW13 (QF EP 4) | 13 | 32 | 40.63% |
| Total | 25 | 61 | 40.98% |
External Links