The Pole Jump (ポールジャンプ), known as the Super Vault in English broadcast, was the first obstacle of SASUKE 3 and SASUKE 4's Third Stage.
It was simply a pole with a fixed axis in a water pit that the contestant must grab onto and swing to a landing platform. It only took out one competitor (Satō Shūsuke in SASUKE 4). In his case, he was strong enough to cross the gap, but lost his balance and fell off the course. This obstacle was removed following Akiyama Kazuhiko's kanzenseiha.
The obstacle was similar to the Nirenbou, which would appear during the Third Stage in KUNOICHI 3 and KUNOICHI 4, with the differences were the number of poles to swing onto (competitors must swing onto two poles in Nirenbou) and the gap of the pit which separated the platforms (the gap of the Nirenbou was smaller than the gap of the Pole Jump).
Although G4 changed its name to the Super Vault, the close captions accidentally called the obstacle its correct name once.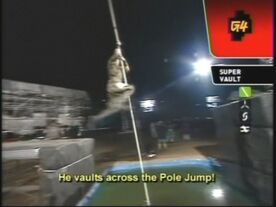 Other Appearances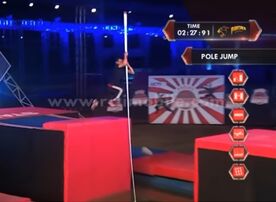 After about 16 years hiatus since SASUKE 4, the Pole Jump returned. This time, the obstacle appeared as the first obstacle during Semifinal Stage 1 on SASUKE Ninja Warrior Indonesia.
Competitors' Success rate
All results based on the TBS broadcast and external information found
| SASUKE | Clears | Attempts | Percentage |
| --- | --- | --- | --- |
| 3 | 6 | 6 | 100% |
| 4 | 10 | 11 | 90.91% |
| Total | 16 | 17 | 94.12% |
Community content is available under
CC-BY-SA
unless otherwise noted.