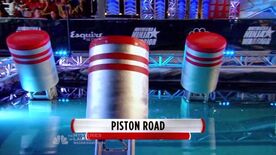 The Piston Road is an obstacle, firstly introduced as the first obstacle in Stage One on American Ninja Warrior 6, replacing the Timbers from the previous season.
Competitors must across 6 angled piston-shaped steps (in a similar fashion to the Godantobi or Rokudantobi). This obstacle was proven to be extremely easy, as all 90 competitors could complete the obstacle.
Other Season Appearances
American Ninja Warrior 7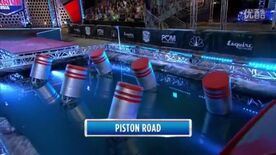 The Piston Road returned on American Ninja Warrior 7, once again as the first obstacle in Stage One. This time, the obstacle took out 4 competitors (Steve Martin, Dennis Lappin, Caitlin Shukwit and Annie Dudek). Despite that, it still had a very low 4% knockout rate.
On American Ninja Warrior 8, the obstacle was replaced by a more difficult obstacle (the Snake Run).
Other Appearances
Ninja Warrior Poland
On Ninja Warrior Poland 5, the Piston Road appeared as the first obstacle in the Semi-finals and finals Stage Two. In this season, the obstacle consisted of three pistons.
Competitor's Success Rate
All results based on the NBC broadcast and external information found
External Links