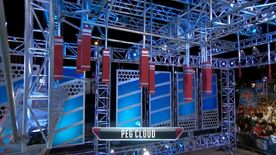 The Peg Cloud is an obstacle, firstly appeared on American Ninja Warrior 9 as the sixth obstacle of Stage Three, replacing the Hang Climb from the past five American Ninja Warrior seasons.
It consists of series of boxes, which contain footholds and peg holes arranged downwards and two pegs. After completing the Curved Body Prop, competitors have to hold on to the two pegs and must traverse downward to the poles using the footholds and the peg holes. After that, they must transfer to the next obstacle, the Time Bomb.
Only Joe Moravsky attempted and completed the obstacle, as he had the opportunity to rest upside down by hanging his legs on the pegs.
Other Season Appearances
American Ninja Warrior 10
On American Ninja Warrior 10, the Peg Cloud returned once again as the sixth obstacle in Stage Three. However, due to Sean Bryan and Drew Drechsel being the only two competitors to attempt Stage Three, with both of them failing on the Ultimate Cliffhanger, no one had attempted the obstacle.
However, during USA vs. The World 5, the obstacle was attempted by Drew Drechsel from Team USA, and he could complete it.
It was removed in American Ninja Warrior 11 in favor of the Pipe Dream.
Other Appearances
Ninja Warrior Germany
Peg Cloud appeared as the fourth obstacle of Stage Three from Ninja Warrior Germany 4 to Ninja Warrior Germany 6.
Competitors' Success Rate
All results based on the NBC broadcast and external information found
External Links