Paul Darnell (ポール・ダーネル) qualified for SASUKE 23 as the #4 qualifier through American Ninja Warrior, the United States' qualifying competition.
He had a strong run during the American qualifiers, using a leaping technique as opposed to a sliding technique on the Pipe Slider to breeze through the obstacle and clear the course, placing 3rd and knocking Ryan Stratis off the leaderboard.
In the semi-finals, he had a good pace early, but struggled on the Tarzan Rope. However, he managed to make up time by clearing the Jumping Bars in just six seconds, and cleared the course in 1:34.8, placing 6th overall and knocking Sam Reynolds off the leaderboard. He preformed well in the finals course, clearing the first stage in the 4th fastest time of 1:37.3 minutes, and clearing the second stage in the 7th fastest time of 26.3 seconds, ultimately placing 4th in the finals to secure his spot in Japan.
However, his victory was short-lived. In the tournament, he started very strong despite getting hung up on the Curtain Slider, but while dismounting the Half-Pipe Attack, he landed wrong on the landing platform, spraining his right foot, while his left foot tapped the water, ending his run.
He then competed in American Ninja Warrior 2. He started very well, but shockingly failed the Cross Bridge after tripping on one of the panels, hitting the scaffolding so hard that he shook one of the cameras. This is his earliest exit to date, going out on just the third obstacle in qualifying.
He competed in American Ninja Warrior 4, and made it to the Second Stage, but failed on the Unstable Bridge at the end of the first plank.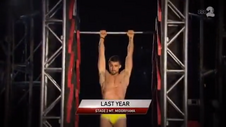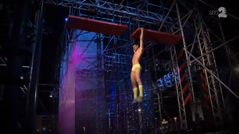 In American Ninja Warrior 5 he failed the Flying Nunchucks, but was enough to place 20th in Venice Qualifying. In the Venice Finals, he was one of the 2 married men who made it past the Venice Qualifying Round, but his quest for 'Third Time`s the Charm ended on the Salmon Ladder. 
Results
| SASUKE | # | Result | Notes |
| --- | --- | --- | --- |
| 23 | 43 | Failed Half-Pipe Attack (First Stage) | All Cut. |
| ANW4 | | Failed Unstable Bridge (Second Stage) | First plank. |