Patrick Cusic (パトリックキュージック) was a competitor for American Ninja Warrior 2. Prior to running the course, he had been doing gymnastics for 13 years, and is a self-proclaimed "superfan" of the show.
In the qualifier, he did not disappoint, placing 16th in qualifying despite struggling on the Warped Wall. In the semi-finals, he had a strong pace early despite a rough landing on the Cross Bridge, but he got a bad bounce on the trampoline leading up to Salmon Ladder and was only able to touch the bar before falling. But luckily, his fast time allowed him to squeeze into boot camp in 15th place. In the finals, he was set for elimination once, and barely won over Dorian Cedars to eliminate Dorian, despite neither clearing the entire Rope Climb. Later on he was suggested for elimination, but teammate Evan Dollard decided to take his place and Patrick moved onto Japan, a decision that infuriated several other competitors such as Shane Daniels and Brent Steffensen, as they believed that Patrick was not strong enough for Japan, and were upset over Rich King's elimination.
In SASUKE 26 he would slowly, but easily clear the first two obstacles, but on the third obstacle (the Rolling Escargot), he began to lose his balance after the first revolution, and eventually peeled off the wheel after the final spin. Ironically, both him and Evan Dollard, who went in place of Patrick on the Heavenly Ropes went out on the same obstacle, and provided the worst results for their team.
Cusic came back in American Ninja Warrior 3 with a sprained foot, and completed the course in a triumphant effort by being the first person to finish the course with one shoe on. However, he got caught up in the Jump Hang and by finishing the course in a little over 2 minutes, he didn't finish fast enough to get in the top 30.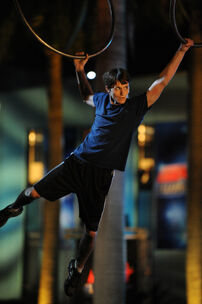 In American Ninja Warrior 4, Cusic started strong in the qualifier, but he couldn't get up the Soritatsu Kabe, but his time through the Wall Lifting was enough to make the Top 30. In the Regional Finals, Cusic moved slowly and finished in 4:35.22 which wasn't fast enough to make the Top 15 due to the large amount of clears that day. Cusic was however selected as one of the 10 wildcards and he got to try the Las Vegas course, but he timed out on the Soritatsu Kabe in the First Stage.
He returned in American Ninja Warrior 6, where he competed in Miami and while he started strong through the qualifier, he once again failed to scale the Soritatsu Kabe in the Qualifying Round. Due to the large amount of clears that day, it wasn't good enough to move on.
Results
| SASUKE | # | Result | Notes |
| --- | --- | --- | --- |
| 26 | 60 | Failed Rolling Escargot (First Stage) | All Cut. Shown on G4. |
| ANW4 | 43 | Failed Soritatsu Kabe (First Stage) | Digested. Time Out |