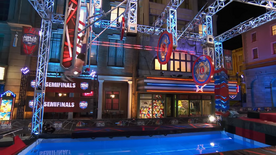 The Padlock is an obstacle, firstly introduced as the eighth obstacle during the second episode of the semifinals on American Ninja Warrior 13.
After completing the Salmon Ladder, there were a foothold and a laché bar as the medium to reach this obstacle. It consisted of three rotating circular panels; competitors had to transfer between them, and was allowed to use the legs. The functions of each panels were:
The first panel had a singular curved bar at the top of it; competitors had to swing from the laché bar, grab the bar, survive the counter-clockwise rotation and lock that bar into place at the bottom.
The second panel had a ledge placed at the southeast direction; competitors had to shift their bodyweight to bring the ledge to the direct bottom. After that, they had to grab the ledge and make the transition to the third and final panel. Due to safety concerns, competitors were not allowed to grab the ledge directly.
The third panel was the same in structure with the first one; however, competitors instead had to rotate it in a 180-degree counterclockwise direction, similar to some panels from Wall to Wall or The Dungeon. The panel itself still connected to an axis and could be rotated left and right a bit. Finally, competitors had to make the dismount.
This obstacle became brutal as seventeen competitors failed there during the second semifinal episode, such as Cara Mack, Julius Ferguson, Lucas Reale, Brett Hernandez Strong, Judas Licciardello, Casey Rothschild, Jackson Twait, Nick Hanson (The Rugby Ninja), Philip Scott, Chad Flexington, Will Schlageter, John Uga, Caiden Madzelan, Chris Behrends, and Grant McCartney (who was filling in as an alternate for another competitor due to having placed 31st in his qualifiers episode). Hence, in its debut episode, the Padlock ended up being the cut-off obstacle for the top 15.
Another eleven competitors failed this obstacle during the third semifinals episode, including Kevin Carbone, Meagan Martin, Brian Kretsch, Megan Rowe, DeShawn Harris, Enzo Wilson, Tage Herrington, Bob Reese, and Francisco Barajas. Hence it was once again the cut-off obstacle for the top 15.
Competitors' Success Rate
All results based on the NBC broadcast and external information found
| ANW | Clears | Attempts | Percentage |
| --- | --- | --- | --- |
| ANW13 (SF EP 2) | 7 | 24 | 29.17% |
| ANW13 (SF EP 3) | 9 | 20 | 45% |
| Total | 16 | 44 | 36.36% |
External Links