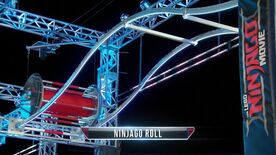 The Ninjago Roll is an obstacle, firstly introduced as the ninth obstacle during Denver finals of American Ninja Warrior 9.
Competitors must roll a 150-pound cylinder on a curved track. The track has an upward slant on the first half, and a downward slant on the second half. In the second half, there are bars that are barricaded in the track which forces the competitor to roll in the other direction.
This obstacle has a very similar design with the Roulette Cylinder, except instead of grabbing the spikes surrounding the cylinder, competitors must grab the support bars surrounding the cylinder, with four of the bars would spin, as competitors grab them (similar to doorknobs from the Doorknob Grasper).
Due to The Wedge had taken out most of the competitors during American Ninja Warrior 9's Denver finals, only 3 competitors were able to attempt the obstacle. While Lorin Ball and Jesse Lucero failed to get the cylinder up the first part of the track, Ian Dory was the only competitor who could complete it.
Competitors' Success Rate
All results based on the NBC broadcast and external information found
| ANW | Clears | Attempts | Percentage |
| --- | --- | --- | --- |
| ANW9 | 1 | 3 | 33.33% |
| Total | 1 | 3 | 33.33% |
Trivia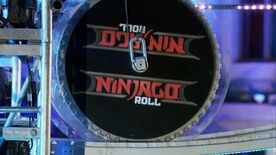 The Ninjago Roll was one of the eight obstacles that won the first edition of American Ninja Warrior: Obstacle Design Challenge, and designed by 11-year-old Josephine Starr Stevenson.
The word 'Ninjago' was based from a long running children cartoon and LEGO product, the "LEGO Ninjago".
This was the first obstacle in American Ninja Warrior history to use a copyrighted name and have the obstacle's name printed on the obstacle, since the obstacle was served to promote the then-upcoming The LEGO Ninjago Movie, collaborating with Warner Bros. Therefore, the movie's logo was placed at the start and end of the obstacle. The movie itself was released on September 22nd, 2017.
In addition, all competitors in Denver finals were also given free tickets to see the upcoming movie, when it was released in theaters.
The Ninjago Roll shared several similarities with the Helix Hang during American Ninja Warrior 8's Los Angeles finals:

Both obstacles were attempted by only a handful of competitors (two competitors on the Helix Hang and three competitors on the Ninjago Roll), due to the brutality from the same eighth obstacle, The Wedge.
Each of these two obstacles had only one competitor completed the obstacle (Josh Levin on the Helix Hang, and Ian Dory on the Ninjago Roll). Ultimately, both of them were the only finisher of their respective city finals course. Both Josh Levin and Ian Dory are also a professional rock climber.
External Links