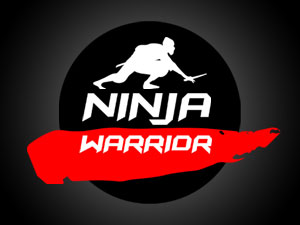 Ninja Warrior was an edited version of SASUKE, created and shown by

in the United States, as well as in many other countries in a dubbed-over format. Ninja Warrior episodes were usually drastically reduced in time and content compared to SASUKE, and many translation errors also occurred during the show's production.
Format
Each SASUKE tournament was split into several 30-minute episodes, usually ranging from 3 to 6 episodes in length. The Japanese commentary was subtitled, although this was often incorrect or heavily stylised. Additionally, voice actor Dave Wittenberg provided introductions and analysis before and after runs.
The running order of the competitors, which were usually linear (1-100) in the original TBS broadcasts, were shuffled to give a wider range of results per episode, as well as to build suspense. Episodes featuring the Second and Third Stages usually began with the competitor who failed the earliest, and ended with the competitor who got the furthest.
First cancellation
By the end of 2012, Ninja Warrior had stopped airing regularly in the US. This was due to a combination of several factors:
The rebranding of G4 into the Esquire Network starting in September 2013, leading to a subsequent decline in new G4 produced programming leading up to this date.
The uncertain fate of SASUKE following SASUKE 27 in 2011, due to the bankruptcy of the production company Monster9.
The rise of the "new" format of American Ninja Warrior. Whilst the first three G4 produced American Ninja Warrior tournaments ended with winners travelling to Japan to challenge SASUKE, the rise of American Ninja Warrior's four-stage "Vegas" course effectively eliminated the need to send Americans to Japan to challenge the course at Midoriyama Studios.
The final broadcast of the G4-edited "Ninja Warrior" took place on April 10th 2013. Since then, SASUKE has not been shown on North American television in any form, aside from short clips shown during the USA VS. Specials for American Ninja Warrior.
Revival
In 2016, it was announced by USA Today that new episodes will be aired on Esquire starting in 2017[1], along with a 63-hour Labor Day marathon of Ninja Warrior starting at 7am EST/6am CST on September 3, 2016, and ending at 3:30am EST/2:30am CST on September 5, 2016. SASUKE 1-27 will air during Labor Day Weekend, while SASUKE 28-32 will air in the coming years.
Distribution
The Ninja Warrior format is shown in many different countries to this day, including the United Kingdom, France, Germany, Croatia, Greece, Australia, New Zealand, Italy, Finland, Malaysia, Mexico, Spain, Serbia, Denmark, Singapore, Indonesia, Turkey and South Africa.
Ninjafest
Following G4's American Ninja Challenge for SASUKE 19, new tournaments were shown in one-night specials called Ninjafest, with bonus features before and after focusing on the American competitors and behind the scenes footage of SASUKE.
External Links
References