Najee Richardson, nicknamed "The Philly Phoenix", is a fitness coach and former gymnast from Philadelphia, Pennsylvania.
American Ninja Warrior 7
Najee first competed in Pittsburgh in American Ninja Warrior 7. His run was cut, but he was one of the many athletes that failed Snake Crossing in qualifying.
In his second year of competing on American Ninja Warrior he competed in his hometown of Philadelphia in American Ninja Warrior 8. In Philadelphia Qualifying, he cleared the course with the 5th fastest time and moved onto the city finals.
In the city finals, Najee failed the Stair Hopper but he placed 6th overall in the top 15 and advanced to the Vegas finals. In the national finals, Najee finished Stage 1 with 8.01 seconds remaining. On the second stage, he cleared the Giant Ring Swing but he failed the all new Down Up Salmon Ladder.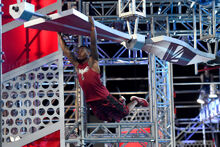 Najee returned to compete in American Ninja Warrior 9 where he completed the Cleveland Qualifying course placing 6th. In the city finals, Najee tried an unorthodox technique on the
Nail Clipper
which ultimately caused him to fail. However, he still placed 13th overall punching his ticket to the National finals. In Vegas Najee cleared Stage 1 with 27.21 seconds left. He was only one of 3 people to clear Stage 2, finishing with 20.29 seconds remaining.
On stage 3, though he managed to get revenge on the Nail Clipper, he fell on the Ultimate Cliffhanger on Stage 3 (though he completed it during American Ninja Warrior: All Stars Special 2 but in a team-relay race), becoming the only person this season to fail to complete city finals but also make it to Stage Three.
Richardson had revealed on local news that he ran the course and nearly suffered a mild asthma attack after his stage 2 run. Because of this, he openly expressed about his medical condition, which resulted in him becoming an ambassador for the American Lung Association.
Najee Richardson had returned to compete in his hometown in Philadephia. He was shown to have cramps in his legs during his run, but was able to battle through them and even go as far as scaling the Mega Wall, winning $10,000 and becoming the 6th competitor to successfully do so. He ended off placing the sixth fastest time in qualifying.
In the city finals, Najee finished the entire city finals course, placing 2nd overall. This is his first city finals buzzer in his career.
In the national finals, Najee finished Stage 1 with 22.14 seconds left on the clock. He once again defeated Wingnut Alley, becoming one of three yet again to do so. Unfortunately he timed out on the Water Walls on Stage 2. In a post-run interview, he mentioned that he had to use up time on the obstacle for the safety of his asthma.
Najee returned to compete in Baltimore. He made through most of the qualifying course with ease, despite a close call on the Hazard Cones. He was trying to make it up the Mega Wall for the second year in a row. But possibly due to the cold conditions making the Mega Wall very slippery, he surprisingly failed all of his 3 attempts and ultimately failed the qualifying course for the first time since his debut in ANW 7. He still placed 11th overall at the end of the night.
In the city finals, he was one of many who failed the unbeatable Angry Birds. Despite his fast time, he had been beaten by Lucas Reale by two-hundredths of a second, so he placed 3rd overall and once again missed out on attempting the Power Tower.
In Vegas he shockingly fell on Tire Run after a bad transition from the spinning tire to the second steering wheel. This marked his first time failing Stage 1.
Team Ninja Competitions
Najee has been the team captain of the Phoenix Force on American Ninja Warrior's team ninja competition spin-offs. They have competed on season 2 of Team Ninja Warrior and season 1 of American Ninja Warrior: Ninja vs. Ninja.
Results
| ANW | | Results | Note |
| --- | --- | --- | --- |
| 8 | | Failed Down Up Salmon Ladder (Second Stage) | Failed on transition to second wall set |
| 9 | | Failed Ultimate Cliffhanger (Third Stage) | |
| 10 | | Failed Water Walls (Second Stage) | Time Out. |
| 11 | | Failed Tire Run (First Stage) | First time falling on Stage 1. |
Community content is available under
CC-BY-SA
unless otherwise noted.