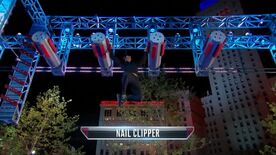 The Nail Clipper is an obstacle, firstly introduced as the eighth obstacle during Cleveland finals on American Ninja Warrior 9.
Competitors must traverse 4 cylinders that rolled back and forth, with 6 ledges in each cylinder.
This obstacle was proven to be brutal, due to being difficult to maneuver around and the grip either slipping or giving out. It took out top competitors like:
Only Jamie Rahn and Joe Moravsky could complete this obstacle.
This obstacle set the second highest knockout record in American Ninja Warrior history, taking out 20 of the 22 competitors who attempted it and giving it almost a 91% knockout rate, moving The Wedge during American Ninja Warrior 8's Los Angeles finals to the third highest knockout record (behind the Unstable Bridge during semifinal on American Ninja Warrior 3 and the Angry Birds during Baltimore finals on American Ninja Warrior 11).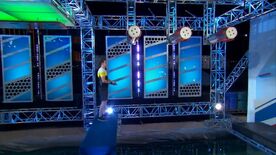 Later on the same season, the Nail Clipper reappeared as the third obstacle in Stage Three, moving the Ultimate Cliffhanger to the fourth obstacle.
However, the number of cylinders was reduced to three. Also, the obstacle was not preceded by any obstacle with no rest. As the result, no competitor failed on this obstacle.
Interestingly, among the 3 competitors who attempted the Nail Clipper in Stage Three (Sean Bryan, Najee Richardson, and Joe Moravsky), two of them (Najee Richardson and Joe Moravsky) had attempted the obstacle before (during Cleveland finals).
On American Ninja Warrior 10, the obstacle was replaced by the Crazy Clocks.
Other Season Appearances
American Ninja Warrior 10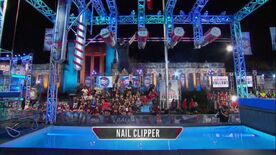 On American Ninja Warrior 10, the Nail Clipper appeared as the eighth obstacle during Dallas finals, which was the same as the one during Cleveland finals on the previous season, albeit a waiting bar was placed in between the Salmon Ladder and the first cylinder.
This time, 7 competitors (Daniel Gil, Jeremiah Morgan, Abel Gonzalez, Thomas Stillings, Josh Salinas, Mathis Owhadi, and Matthew Day) made it past the obstacle, but the obstacle was still proven to be difficult, as it knocked out top competitiors like Brent Steffensen, Karsten Williams, Brian Burkhardt, Barclay Stockett, Andrew Swinghamer, Jon Stewart, Josh Norton, Kevin Jordan, Mike Murray, Elliot Jolivette, and Erik Brown.
Competitors' Success Rate
All results based on the NBC broadcast and external information found
Trivia
External Links