Nagasawa Hidenori (長澤 秀則) is a chief mechanic of Jaguar Tokyo who has competed in SASUKE nine times. Nicknamed gouwanmeka (剛腕) and "Japan's Number One Jaguar Mechanic" (for winning a Japanese Jaguar service contest in both 1996 and 2001), Nagasawa has competed for years and still trains and competes to this day.
Competition History
Nagasawa made his first appearance in SASUKE 10 but was all cut. Wearing #987, he made it to the Jump Hang. However, he was unable to hang onto the net and fell there. To train for SASUKE, Nagasawa built obstacles on his rooftop to train (see below). He competed in SASUKE 11, where he wore #89 and made it to the Jump Hang again. This time, his training paid off as he was able to grab onto the net. However, he was disqualified when his foot touched the water underneath the net. In SASUKE 12, he wore #80 and his run was all cut. There, he beat the Jump Hang, but timed out on the Soritatsu Kabe. His Jump Hang troubles continued, as he failed there in the SASUKE 13 Trials, eventually placing 80th. He still was invited, and although he beat the redesigned Jump Hang, failed the new Neshireta Kabe when he couldn't hold onto the rope.
He then got closer to clearing the First Stage, timing out on the Rope Climb in SASUKE 14 (digested) and SASUKE 15 (all cut). After several failed attempts to beat the First Stage, he finally beat the First Stage in SASUKE 16, clearing with 5.1 seconds left. In the Second Stage, he was able to battle through most of the stage, however, he (like many) failed the redesigned Metal Spin. He competed again in SASUKE 17 wearing #55. Although, his run was cut, he timed out on the Soritatsu Kabe.
Nagasawa then applied for SASUKE 18, but was not selected to compete. Around the time of SASUKE 19, he injured his ACL in his left knee, and required surgery. Because of this surgery and rehabilitation, he was unable to compete in SASUKE 20, SASUKE 21, or SASUKE 22, despite getting an invitation to compete in SASUKE 20.
He was healthy enough to compete in SASUKE 23. There, he performed well, but timed out on the Tarzan Rope.
Homemade Obstacles
To train for SASUKE, Nagasawa built obstacles on his rooftop to train. By the time of SASUKE 11, his profile showed he built thirteen obstacles on his rooftop and parking space including the Jump Hang, Rolling Maruta, Lamp Grasper, and Rumbling Dice. However, many of these obstacles are gone today. Today, he has a total of eleven obstacles. These obstacles include:
Jumping Spider
Soritatsu Kabe, Spider Climb (4m), Rope Climb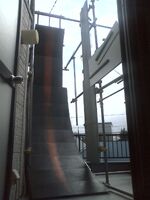 Salmon Ladder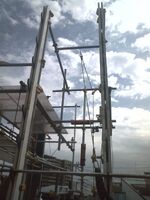 Cliffhanger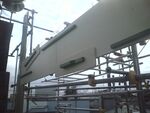 Devil Balanço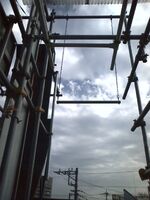 Results
| SASUKE | # | Result | Notes |
| --- | --- | --- | --- |
| 10 | 987 | Failed Jump Hang (First Stage) | All Cut. Failed to hang onto net. |
| 11 | 89 | Failed Jump Hang (First Stage) | Disqualified when his foot touched water. |
| 12 | 80 | Failed Soritatsu Kabe (First Stage) | All Cut. Time Out |
| 13 | 61 | Failed Neshireta Kabe (First Stage) | Digest |
| 14 | 75 | Failed Rope Climb (First Stage) | Digest. Time Out. About 10 seconds late |
| 15 | 44 | Failed Rope Climb (First Stage) | All Cut. Time Out. About 5 seconds late. |
| 16 | 39 | Failed Metal Spin (Second Stage) | |
| 17 | 55 | Failed Soritatsu Kabe (First Stage) | All Cut. Time Out |
| 23 | 58 | Failed Tarzan Rope (First Stage) | All Cut. Time Out |
| 27 | 76 | Failed Half-Pipe Attack (First Stage) | Digest |