Nagano Makoto (長野 誠) is a Fisherman and a SASUKE competitor from Miyazaki Prefecture in Japan. He is also the Captain of his boat, the "50th Konpira Maru", is the fifth member of SASUKE All-Stars, and one of only four competitors to have completed the course, doing so in SASUKE 17. He was widely regarded as one of the most likely competitors to repeat this feat. His height and weight are recorded at 162 cm and 64 kg respectively.
He holds the record for most Final Stage appearances (five), and has achieved fastest times in the First and Second Stages on numerous occasions. He also is the only competitor who attempted both the second and third versions of Final Stage.
Nagano is known for his consistency in SASUKE. He, together with Takeda Toshihiro and Morimoto Yūsuke, held the record for the second most consecutive First Stage clears (each eight), only behind Satō Jun who had 10 consecutive clears. He is also one of two competitors beside Ōmori Akira to ever reached Final Stage three times in a row (the 11th, 12th, and 13th tournaments), but failed each time. Of the three, the closest he came to winning it was in SASUKE 12, missing the button by 0.11 (1/9) seconds.
In his 27 appearances, he has cleared First Stage fourteen times, Second Stage eleven times, Third Stage five times, and Final Stage once. He has worn #100 in 15 tournaments, as well as #99 in four tournaments.
As of SASUKE 32, he has officially retired from SASUKE (though he did decide to make a comeback for SASUKE 38 as part of cheering Japan in the middle of COVID-19 pandemic). From SASUKE 33 onwards, he guested as an analyst for the runs of the competitors.
Early Tournaments
Nagano decided to compete in SASUKE after his friend's encouragement, when he showed him videos of previous tournaments. Prior to the tournament, he trained relentlessly for three months. He debuted in SASUKE 7 wearing #87 and while his run was all cut, it was later broadcast on a special SASUKE edition of sports documentary show "ZONE" before SASUKE 9. Despite reaching the obstacle quicker than anyone that day, he ran out of time on the Soritatsu Kabe.
He returned in SASUKE 8 wearing #41. The rain plagued the course, but Nagano once again sped easily through the course. Although over 40 seconds remained by the time he reached the Soritatsu Kabe, he was one of many to be taken out by it.
Before the ninth tournament, he had practiced Body Prop using two work trucks and had even built a replica of the Soritatsu Kabe at his home to train on, while also try to climb a wall at the street near his house as part of making his leg memorising the pattern of the jump. The results showed. He was able to get revenge on it as he was able to clear it on his first attempt and complete the First Stage with 22.85 seconds to spare, the fastest time of the day by more than 12 seconds. On the Second Stage, he struggled like most that day on Spider Walk and although he lost some time, it wasn't enough to bring him down, as he cleared the stage with the slowest time, finishing with 2.28 seconds remaining. He was the first to attempt the redesigned Third Stage and had virtually no problems with it, clearing the first three obstacles with ease (two of them even were new obstacles). He struggled on Cliffhanger (which had just been redesigned to Cliffhanger Kai) due to his short figure, but was able to advance past it. He was now infront of Pipe Slider. After doubting which grip to go with, Nagano go with conventional grip. With Yamada Katsumi, whom he looked up to, looking on, he slid the pipe across the end of the tracks, but was just short of his first Final Stage attempt. After this impressive run, Nagano was officially inducted as an All-Star.
As An All-Star
Before the 10th Anniversary tournament, Nagano had made a Pipe Slider to practice on to avenge last year's heartbreak, but whilst wearing #999 (would normally be #99), he shocked everyone. Jump Hang had caused problems all day and Nagano would be no exception, going head first into the muddy waters of the First Stage.
After this, he would practice continuously on a trampoline at a school in Kagoshima. In the actual tournament, this training paid off, as he vanquished the foe that felled him last time on Jump Hang and cleared First Stage with 13.70 seconds left (even took time to look at the red button before pressing it). He then would end up clearing Second Stage in the second fastest time, coming to face Third Stage again. After watching his friend Yamada go out painfully on Second Stage, Nagano would breeze through the first four obstacles and would once again battle with Pipe Slider. Unlike his previous attempt, he would use a mixed grip like Yamada would use, which turns out is effective, as he made the final jump look almost like child's play, becoming the first person since the stage was renewed to attempt Final Stage. Before the tournament, he had practiced on a 10-metre rope held up by a crane, similar to Yamada Katsumi before SASUKE 4 (albeit unlike Yamada, he is using safety harness and Yamada climb a 20-metre rope). He looked good on Spider Climb, but was tripped up transferring to Tsuna Nobori as the rope swayed behind him, leaving him only 13 seconds to complete the climb, which turns out wasn't enough. He ran out of time just a few metres short, plummeting to the ground below.
In the 12th tournament, given the coveted #100 for the first time in his career, he would once again breeze through the course, capturing the fastest time in both First and Second Stages. Controversy arose due to Yamada's painful run and re-runs and after hearing Yamada during his interview said "Makoto will win it for me", he burst into tears as they had promised each other before their attempts that they would finally make their dreams of attempting Third Stage together come true. This cause him to be so angered and determined during his Third Stage run, barely smiling as he make Third Stage once more looked easy, even only taking three swings on the final Pipe Slider jump. Added by the fellow finalists falling before him, he wanted to win the Final Stage for all the other 99 competitors. He was at a much faster pace than previously, but had slipped up halfway through the Spider Climb, leaving him 18 seconds for Tsuna Nobori. Unlike previously, he was able to make it to the very top, but the rope swayed back at the last second, causing him to miss the button. He tried his best to scramble for the button and was able to successfully press it..., but it wasn't in time. Nagano had missed by the closest of margins: 0.11 seconds. He had come so far, and came oh so close, but in SASUKE, there is zero room for error. On top of the tower, he was asked by staff if he wanted to look down, but he responded with "No, I won't. When I get here next time."
After this, SASUKE 13 Trials were held as part of his near-miss of Kanzenseiha. Nagano (along with the other All-Stars and various top competitors at the time) competed, with his attempt airing in November. Nagano was in great shape to update the fastest time that was (at the time) set by Kobayashi Masaaki, but due to the rain that had plagued the course that week, Nagano ultimately shocked everyone by slipping off the Tarzan Rope. This result would have been enough to guarantee him a spot in the actual tournament as by the time prior to his second run, he is sitting at 24th place, which is inside the Top 30 that could guaranteed a spot in the tournament, but for him, it was an embarrasing result/wasn't good enough. Competitors were allowed multiple attempts on the course, so Nagano came back to attempt the course in January and this time he delivered. Showing almost the same pace as friend and fellow All-Star, Takeda Toshihiro, who had updated the fastest time with his run just before prior to his, Nagano cleared Tarzan Rope that took him out beforehand and finished the course just two seconds slower than Takeda, formally earning a spot in the next tournament.
This means that "next time" turned into reality. In the 13th tournament, First Stage was completely renewed following his result in the previous tournament, and yet Nagano more than doubled the remaining time of the second best clear, finishing with 29.03 seconds remaining, After once again clearing with the fastest time in Second Stage, he alone beat Third Stage (this time needing only two swings on Pipe Slider's jump) to advance yet again to Final Stage, but the rope kept swaying back and forth and he was only able to get one hand on the top before plunging to the bottom. Kanzenseiha was, yet again, just out of reach.
Naturally disappointed with this result, he returned with a vengeance in the 14th tournament. Nagano was at yet another quick pace, but had stopped to collect himself at the Jump Hang, which Yamada had just failed on. Despite this, Nagano cleared it and the rest of the course with ease, finishing with an impressive time of exactly 30 seconds remaining (just short of Takeda's time of 32.44 seconds left). He then became the tenth and final clear in Second Stage, finishing with 9.9 seconds left (strangely, in the bottom half of clear times), marking four tournaments in a row where Nagano had made it to Third Stage. However, due to Nagano's consistent success, the course had been renewed, adding a new obstacle and modifying the all familiar Pipe Slider for the first time in five years (at the time, Climbing Bars were considered part of Jumping Bars, as well as Devil Balanço being a part of the Pipe Slider, both of these were without a name until later). When his turn came, everyone before him had failed, and Nagano was thought to be the last hope of all 100. However, on Jumping Bars, his hands had just overshot the fourth bar, causing him to lose his grip, thwarting his plans of yet another attack on the Final Stage.
In the 15th tournament, Nagano once again cleared First Stage, finishing with the fastest time. However, in Second Stage, the course had been renewed in the Chain Reaction and Metal Spin, both being fitted with bungee chains. Of the six who ran before him, all had cleared, and with Nagano running last, there was a strong possibility of a clean sweep. Nagano was, no doubt, on pace to set a record time, but surprisingly, he became the very first Metal Spin fatality, giving the obstacle a permanent lethal status. This was his first Second Stage defeat.
When Nagano attempted the 16th tournament, he took a somewhat slow but steady pace on the course. He took two attempts on Soritatsu Kabe, but wasn't phased on any of the new obstacles, finishing with 8.99 seconds left. He then got revenge on Metal Spin, who had taken out almost half those attempting the Second Stage and finished the stage with just under seven seconds left. This is where the spotlight shines on one of his most unusual failures. He had once again made his way towards the end of Third Stage, defeating Jumping Bars which had been modified to be easier. Nagano took his time and rested on the green pipe directly before Devil Balanço obstacle that leads to Pipe Slider. Instead of trying to generate momentum from an idle position on the trapeze-like Devil Balanço, Nagano instead used Shiratori Bunpei's tactics and grasped the Devil Balanço with one arm and held onto the green pipe with the other. He then swung back and forth, eliminating most of the effort needed to get to the Pipe Slider. However, the left chain of the trapeze got caught on the green pipe, halting him for a while. Nagano eventually got himself free and even got a hold on Pipe Slider with one hand, but he couldn't hold on. When he let go, the orange pipe slid a short ways down the track. Now forced to generate momentum and try to jump for the pipe, Nagano fell short.
Kanzenseiha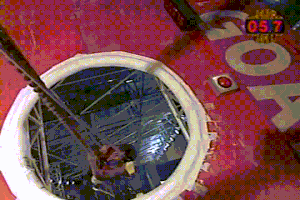 In SASUKE 17, Nagano wore #99, before Yamada Katsumi who vowed to retire after the tournament. Nagano cleared First Stage effortlessly, pounding his chest atop the Rope Climb and pressing the button with 12.48 seconds left. He proceeded to shout words of encouragement for Yamada (in reversal of what Yamada did three years earlier in SASUKE 12, which is the only time Yamada cleared a stage before Nagano), who would later timed out atop the Soritatsu Kabe. Nagano flew through the Second Stage and granted his revenge on Third Stage to reach Final Stage for the record fourth time, joining Nagasaki Shunsuke. After Nagasaki timed out, it was Nagano's turn. Determined to redeem himself from the close failures in the 12th and 13th tournaments, Nagano reached the rope with almost 20 seconds on the clock and finished Final Stage with 2.56 seconds left. This earned him the title of Grand Champion, joining fellow All-Star Akiyama Kazuhiko as the only two to do so.
In an interview at the top, Nagano was asked by announcer Hatsuta Keisuke about what was at the top of the tower and what SASUKE meant to him. Nagano answered with this:
"I've been asked this this all the time, but in reality..., to me, there's really nothing up here. I just like SASUKE and by doing SASUKE, I was able to appear with all of the All-Stars and friends on the stage known as SASUKE.... The best thing is that I enjoy doing it with the All-Stars. I really like doing this. I will do my best."
Shin-SASUKE
His accomplishment paved the way for a new third era of SASUKE and a completely redone SASUKE course, which was unveiled at the 18th tournament. Despite a scare on the new starting area, Rope Glider, the defending Champion was able to navigate through the completely rebuilt First Stage with the fastest time. In Second Stage, now just with Takeda as two remaining All-Stars, he know that new Salmon Ladder will possess a threat. His instinct was right. Three competitors, including Takeda, were victims of it. Now being the last All-Star remaining, all eyes were on him. Luckily, he was able to clear it with ease, becoming the first to make it all the way to the new Third Stage, despite yet another close call on the first obstacle. On the new Cliffhanger, called Shin-Cliffhanger, this fourth rendition has the second ledge inclined upwards and shortened, making the gap between the second and third ledges a jumping distance of about a metre, rather than just an arm's reach. Nagano was the first to attempt this new version and was able to make the jump to the third ledge. Everyone had thought he had successfully cleared it, but he himself disagreed, saying it was a disqualification. This brought the run into review. While he did clear the obstacle, on the jump from the second to third ledge, his left hand had landed on the frame above the actual ledge. This meant that Nagano had gone off the course and was thus disqualified. The producers then asked Nagano if he wants to attempt the stage again, which he declined and said he was disqualified and therefore failed the stage fair and square.
The 19th tournament was the scene of possibly his most shocking defeat to date. Nervous and angered by his friends' previous failures, Nagano was the All-Stars' last hope. He showed impressive speed on the first few obstacles until he reached one of the newest obstacles, Flying Chute, which he cleared easily in the 18th tournament. Nagano mis-timed the obstacle and just grazed the rope with his hands (a similar mistake made by Nagasaki Takamasa), instead of grabbing the rope from under his arms, which is the technique needed to successfully clear the obstacle. He then lost his grip and forcefully fell backwards into the water, shocking the entire audience and the announcers, as well as his fellow All-Stars. It was his first defeat by First Stage in five years, which marks that not a single All-Star was able to clear First Stage for the first time in SASUKE history.
Before the 20th Anniversary tournament, Nagano had spent a month in hospital due to a visceral disease. He had also met with (at the time) the Governor of Miyazaki, Higashikokubaru Hideo, who had played a role as assistant in Takeshi's Castle (he even gave Nagano a light backslap that was done by Takeda since SASUKE 11 as part of giving courage). Despite his illness, however, he was able to compete and got his revenge on Flying Chute and the stage, becoming the third and final clear of the First Stage. In Second Stage, however, he had an early exit on Downhill Jump, losing his balance on the skateboard and even though he tried his best to grab onto the rope, it wasn't enough to hold on. Nagano, the last Japanese competitor standing, had been eliminated.
In SASUKE 21, Nagano once again cleared First Stage with ease, practically walking to the button towards the end. In Second Stage, he captured revenge on the Downhill Jump and cleared the stage with over 23 seconds remaining. In Third Stage, he got his revenge on the Shin-Cliffhanger from before (becoming the second person to do so) and was able to advance past the new Hang Climbing (that took down his friend Takeda just before him) and Spider Flip, leaving just the final Gliding Ring between him and another trip to the Final Stage. This is where the troubles begin, however. As soon as a competitor starts, the ring is supposed to glide down the track. However, when Nagano attempted it, it wouldn't glide down, forcing Nagano to try and force the ring down the track, similar to Pipe Slider. This made the obstacle become extremely tough and though he was able to get the ring into the stopper for the final jump, he ran out of steam just moments after. Nagano had fallen just short of the goal.
Nagano once again had pressure in the 22nd tournament, as no other All-Star had cleared. Everything had gone well until the new Slider Jump, which had caused problems that tournament. He had gone with a mixed grip approach on the obstacle and came up just short of the net, when his hand that was reversed made the bar reach the end of the pipe slower than the other half of the pipe that use conventional grip, hence he lost all of his momentum and ended up having no distance needed to grab onto the net.
Controversy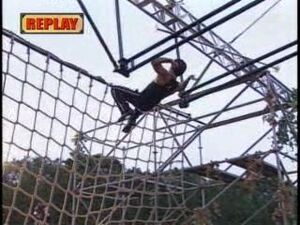 SASUKE 23 is what some believe to be Nagano's last real chance on the course, but also the strangest. He showed great speed in First Stage until he met Slider Jump again, which he had trained on furiously for the last six months. He looked confident to beat it and begin his fateful slide, however, seconds later he was going down to the water. No one can believe it, even his fellow All-Stars were half laughing and half disbelieving over what just happen. Turns out, the wire holding the pipe got caught on the framework of the obstacle and did not allow the pipe to reach the end of the track (see Nagano Makoto's Slider Jump Attempt) as intended. Nagano complained over it and the producers later give Nagano chance to attempt the First Stage once more, made the All-Stars laughed at the decision. After approximately 43 minutes of repairs and cooling down (and had to borrow Takeda's shirt due to his shirt being wet), Nagano begin his second attempt. There, he go at seemingly same pace until he reach Slider Jump again. Praying that the obstacle would finally be totally good to go, he begin his slide and without the malfunction, he was able to clear it easily and become the 16th person that day to clear the First Stage. Afterwards, it had been announced that Nagano was given the nickname of Mr. SASUKE. Nagano then went on to clear Second Stage and was able to get revenge on the Gliding Ring that took him out in SASUKE 21, reaching Final Stage for the first time since his victory in SASUKE 17. This marked his record fifth Final Stage appearance. However, due to Urushihara Yuuji's close call in the previous tournament's Final Stage, the time limit in the Final Stage is reduced from 45 to 40 seconds, strangely right after the two finalists (the other finalist was Kanno Hitoshi) being interviewed. Nagano tried his best to be as fast as he could but even though cleared Heavenly Ladder with 23 seconds remaining, the reduced time limit play a huge part as he was once again just short of the button as time expired, this time being late by 0.21 seconds. While collecting himself at the top of the tower, he said, "Here I am again", never knowing this will be the last time he will ever be on the top of the Final Stage's tower.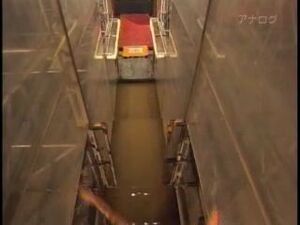 Due to his near miss in the previous tournament, many people expected him to clear all four stages in the 24th tournament. He cleared the first three obstacles with ease, but at the end of the Spider Walk section of Jumping Spider, he was too low and slipped into the mud pit below and in the process of falling down, hurting his right hand. It was the earliest he had ever failed (along with his Jump Hang failure in SASUKE 10). In the interview after his run, he said he wanted to clear the first half of the stage quickly so he could have a lot of time for the end of the stage which made strong competitors such as Yamamoto Shingo and Kanno Hitoshi time out.
Kanzen Renewal
In SASUKE 25 Nagano was given #99 and was the lone representative of Miyazaki Prefecture. During the tournament he started shaky. On Dome Steps he slipped on the last step and was barely able to make it to the mat and on Bridge Jump, he nearly slipped off the rope. Despite these close calls, he seemed to recover and he made it to Circle Slider, but he failed to hit the springboard cleanly and was unable to even touch the ring. This was the first time since becoming an All-Star that he suffered consecutive First Stage defeats.
In SASUKE 26 he was given #99. He started out with a good speed, performing much better than in the previous tournament, clearing Step Slider perfectly and even cleared Hazard Swing without the aid of the ending bar and had no trouble with the new Rolling Escargot. However, due to the modification in Jumping Spider's gap, he did not jump far enough into the obstacle and failed there.
He returned in SASUKE 27 and received #100 once again. He made it past First Stage for the first time since SASUKE 23 and became the only All-Star to clear First Stage in that tournament. Nagano despite being unfamiliar to several obstacles in Second Stage, beat the stage as well. In Third Stage, he beat the Arm Bike and Flying Bar, but he slipped up on Ultimate Cliffhanger's fifth ledge. This would be the last time that Nagano would make it to Third Stage.
SASUKE RISING and Afterwards
In SASUKE 28, as an All-Stars' retirement special, all five of the competing All-Stars wore the final five numbers; Nagano was given his traditional #100. He was off to a good start until Ni Ren Soritatsu Kabe. He cleared the first wall with ease but timed out on the second. Eventually, he gave up after the buzzer sounded, throwing his arm pad to the ground. Standing there in defeat he tried once more to reach the top of the 2nd but he failed. In despair and disbelief, after resting a while he ran up the wall and cleared it with ease. In his post-run speech Nagano stated that he did badly and that he would like to compete again.
Following the official retirement of the All-Stars, there was speculation and rumour suggesting that the All-Stars themselves would no longer be permitted to compete ever again. This proved to be false as Nagano, Takeda, and Yamamoto were once again invited to compete in SASUKE 29. SASUKE 29 proved to be one of his most emotional tournaments. At Long Jump, he overshot the distance of the obstacle and severely injured his hamstring because of the extreme momentum he took to clear the obstacle. Therefore, his balance and speed were affected but he pushed through, clearing Log Grip and Hedgehog with ease. But on Jump Hang Kai he couldn't take the amount of momentum he needed to clear the obstacle and he almost fell when he jumped off the trampoline. He had 40 seconds left when he reached Ni Ren Soritatsu Kabe. After clearing the first wall with ease, he paused to rest, but that wasn't enough to pass the second Wall, because the injury was too serious to keep him going. He timed out there in pain. In SASUKE 30, he wore #2999 (equal to #99). He cleared Ni Ren Soritatsu Kabe for the first time and clear First Stage for the first time since SASUKE 27. He was later disqualified on Swap Salmon Ladder in the Second Stage when he landed the bar slanted, which is not allowed. In his post-run interview, he said that he wanted to make it at least to Backstream to test how tired he would be. This was his first Second Stage fail since SASUKE 20 when he fell on the Downhill Jump.
In SASUKE 31, Nagano watched fellow All-Stars Yamamoto and Takeda failed Rolling Hill and took his time on the course. But in a similar fashion to SASUKE 28, his hopes of clearing the First Stage were taken away by Soritatsu Kabe. During an interview at SASUKE 31 Nagano then said "This may be the last time you'll ever see me.", admitting that he no longer enjoy competing on SASUKE. After the interview, director Inui Masato and the production staff had a long talk with Nagano to persuade him to compete for one last time at SASUKE 32. Nagano said he'll think about it and eventually announced he'll be competing for the final time, wearing #100 in the tournament.
In SASUKE 32, Nagano ultimately delivered a strong run, until he meet Soritatsu Kabe. After clearing it on his second try, Nagano was running low on time. He reached the top of Lumberjack Climb with one second left, but could not reach the button in time, ending his SASUKE career on a bittersweet note. Had Nagano cleared the First Stage, he would've tied the record for oldest person to have cleared the First Stage at age 44. Post-run ceremonies were held in his honour and he was subsequently thrown into the water, a similar gesture to his Kanzenseiha in SASUKE 17.
During his retirement, Nagano served as an analyst in SASUKE 33 and 34. He also cheered for fellow former SASUKE All-Stars Takeda and Yamamoto, with the former also being cheered by fellow competitor Asa Kazuma. Nagano has also trained a protégé, fellow fisherman Takasu Seiki, who made it to the Second Stage twice.
In July 2020, Nagano went on a Q&A video on Takeda Toshihiro's YouTube channel, where he answered a question requesting him to return, even if just for an Anniversary tournament, by saying he wanted to return only for SASUKE 40. The question directly after asked him to give a percentage of returning, in which Nagano answered saying if it was just for one tournament, the percentage is 99.9%, but if he was asked to do it all the time after that one run, it's almost nothing.
However, a recent trailer for SASUKE 38 and official TBS page showing the line-up of the tournament suggests otherwise. Nagano would make his eventual return to SASUKE, wearing #98. In a Twitter post, he said that the reason for his return is to lighten up the spirits of the Japanese public because of the COVID-19 pandemic (however, he didn't reveal this comeback to anyone until the taping day, which surprised Takeda and especially Yamada who ran before him). He would put up a decent performance on First Stage, even clearing Fish Bone which he had never attempted before. However, his run would come to an end when he lost his grip on the first bar of Dragon Glider, failing the obstacle. Later, after Morimoto Yūsuke's second Kanzenseiha, he and Morimoto would be thrown into the water by his fellow competitors, similar to SASUKE 17 and SASUKE 32.
VIKING
Nagano competed on the second and third VIKING tournaments together with several All-Stars and familiar SASUKE competitors.
In VIKING 2, he impressed many by clearing First Marine Stage the fastest that day, even though struggled on Parley, clearing with 25.43 seconds left on the clock. However, admitting that his brain wasn't his best atrribute, he almost knocked out by Brain Panic in Brain Ship Stage, committing two mistakes. Luckily, Yamaguchi Kōsuke commit three mistakes, which eliminate him. Going to Second Adventure Stage with six straight competitors failed before him, he easily cleared the timed portion of the stage with 16.48 seconds left, before easily clearing Heartbreaker, advancing to Third Fantasy Stage. Here, he was given a choice of attempting Steady Voyager or Ultimate Plank, in which he choose Ultimate Plank. Clearing it in under two minutes, he was then awarded ¥500.000 and a chance to attempting Bio Clock with the risk of lowering his prize to ¥100.000 if he fail, but will have his prize increased to ¥1.000.000 and an attempt at Final VIKING. Nagano, without hesitation, choose to continue his journey, which proven to be a success as he cleared Bio Clock with 9.78 seconds on the clock (inside the ±0.5 seconds margin of error from 10 seconds allowed), earning him a spot in Final VIKING, becoming the only person in the tournament to do so. He had just a 10-metre Vertical Rope left with 50 seconds on the clock but ran out of energy and could not clear in time, clearly tired and running out of breath.
In the following tournament, he was tipped by many to reach and finally clear Final VIKING. Given #99, he shocked everyone by failing Parley in First Marine Stage, an obstacle that he feared the most. Due to VIKING 4's casting that involved only celebrities, he wasn't invited at there and as such, never able to achieve Kanzenseiha in VIKING.
Sportsman
On January 7, 2010, Nagano made his Sportsman debut by participating in the 2010 Monster Box tournament. He was joined by All-Stars Takeda and Yamamoto. He cleared up to the 14th level of the Monster Box, failing on the 15th level at 2 metres, 26 centimetres.
American Ninja Warrior Appearances
Nagano has made multiple appearances in American Ninja Warrior.
In American Ninja Warrior 2, Nagano, Urushihara and Okuyama Yoshiyuki all came to America to sign autographs. Each of them ran the course with Nagano failing the Jumping Bars like in SASUKE 14, with the other two clearing the course. Despite clearing, the course run was for fun and even if they made the top 30 they would not compete in the Semis.
In American Ninja Warrior 9, Nagano appeared to watch and give his support for some of the competitors during the taping of Los Angeles qualifiers. In fact, before Brian Kretsch's run, Nagano did a ceremonial backslap to him, which was usually done to him by his fellow former SASUKE All-Star, Takeda.
Trivia
Nagano is one of only five competitors to progress the furthest of any competitor two tournaments in a row, the others being Morimoto Yūsuke, Drew Drechsel, Lee En-Chih and Yuuji Urushihara.
Excluding his Jumping Spider failure in SASUKE 24 and all of his time-outs, all obstacles Nagano has failed were new or modified in Nagano's first or second try. It should be noted that the Jump Hang was slightly modified for SASUKE 10, and that the same went for the Jumping Spider in SASUKE 26.
He and Yamada Katsumi are the only All-Stars to never fail the Body Prop.
Nagano has trained three people for KUNOICHI, the all-female spinoff of SASUKE.
Nagano has the SASUKE record for most times being the Last Man Standing, doing so seven times. He also holds the record for most times wearing #100 at 15 in three streaks of 5, 6, and 3 (SASUKE 12-16, 19-24, 27-29, and 32 respectively)
In September 2008, Nagano made his first United States appearance at the Chibi-Pa Festival in West Palm Beach, Florida.
On June 3, 2009, Nagano's first child, Nagano Kaiou, was born.
Also, on June 16, 2013, Nagano's second child, Nagano Taiou, was born.
Nagano was the first to pass the Rumbling Dice, Lamp Grasper, Cliffhanger Kai, Salmon Ladder, Stick Slider, Net Bridge, Curtain Swing, Hang Climbing, and Spider Flip.
Despite reaching the Cliffhanger Kai seven times, (SASUKE 9, 11-14, 16, and 17) Nagano has never failed the obstacle.
Nagano Makoto, Omori Akira, Yamamoto Shingo, Urushihara Yuuji, Matachi Ryo and Morimoto Yusuke are the only six to reach the Final Stage more than once, with Omori being the only one to attempt just one version. Nagano and Omori also tie the record for most consecutive Final Stage attempts with 3 (SASUKE 1-3 for Omori and ironically enough SASUKE 11-13 for Nagano).
He is considered to be the "Best Ninja Warrior Ever" in the United States. He was declared the #1 "Reason to Worship Ninja Warrior" in a G4 special before SASUKE 25.
He slipped on the Slider Jump in SASUKE 23, but was able to re-run the course due to a technical glitch which made the bar unable to slide to the end of the track.
Nagano released his first album in 2011.
Nagano is the only All-Star to fail the First stage on his first two attempts and the only one to clear the Second Stage on his first attempt. He is also only All-Star to have his first attempt completely cut.
Since he is an All-Star, he has usually worn #100 or #99. In SASUKE 11 and SASUKE 18, he wore #96, and in SASUKE 31 and SASUKE 38, he wore #98.
He is the only All-Star to attempt the Ultimate Cliffhanger.
He is the only All-Star to attempt the Flying Bar.
Nagano is the oldest competitor to achieve Kanzenseiha (age 34) in SASUKE 17. This marked his fourth Final Stage appearance. This record would later be broken by Geoff Britten in American Ninja Warrior 7, at age 36.
He and Shiratori Bunpei are the only All-Stars to never attempt the Propeller Untei.
He is the only All-Star to attempt the Gliding Ring.
He and Takeda Toshihiro are the only All-Stars to ever attempt the Spider Flip, the Devil Steps, the Kudari Lamp Grasper and the Shin-Cliffhanger.
Nagano cleared the TIE Fighter and Double Pendulum on his first attempt, which snagged many stronger and younger competitors like Asa Kazuma, Takahashi Kenji, Yamamoto Shingo, Hioki Masashi, and Urushihara Yuuji.
He held the distinction of being the only competitor to be the first and last to attempt an obstacle, being Lamp Grasper and Cliffhanger Kai​​​​​​.
He is the only Grand Champion to not fail the Wall Lifting and Half-Pipe Attack.
He is the only All-Star to fail the Jumping Bars and the Lumberjack Climb.
He and Takeda Toshihiro are the only All-Stars to never fail the Wall Lifting.
He and Shiratori Bunpei are the only competitors to fail the Downhill Jump.
He has the most Final Stage attempts to date with five.
He is the only Grand Champion and All-Star to give a prop celebration after completing an obstacle, as in SASUKE 11. There, after completing Cliffhanger Kai, he celebrated by opening his shirt.
He had progressed the furthest of any competitor a record eight times (In SASUKE 9, 11-13, 17, 18, 21, and 23).
He and Kobayashi Shinji are the only competitors to fail between the Devil Balanço and the Pipe Slider.
He is the only Grand Champion to achieve Kanzenseiha after failing the Third Stage in their previous appearance.
During his Cliffhanger Kai's attempt in SASUKE 9, the cameraman accidentally knock out the light that shine the obstacle, marking one of few funny instances the cameraman did something wrong and it was caught on camera.
Results
SASUKE Results
VIKING Results
| VIKING | # | Result | Notes |
| --- | --- | --- | --- |
| 2 | 90 | Failed Vertical Rope (Final VIKING) | Time Out. About 50 cm from goal. |
| 3 | 99 | Failed Parley (First Marine Stage) | |
Sportsman Results
| Sportsman | # | Result | Notes |
| --- | --- | --- | --- |
| 2010 | N/A | Failed 15th level (2 m, 26 cm) | 50 competitor Monster Box tournament. |
External Links
All-Stars