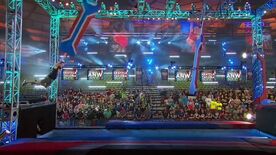 The Lunatic Ledges is an obstacle, firstly introduced as the second obstacle on American Ninja Warrior 11 in Seattle-Tacoma.
It consisted of two boards, each with ledges underneath it, with the second board having a handle at the front-side and being placed perpendicular to and lower than the first board.
Competitors must grab the ledges from the first board and build enough swing and momentum to grab the handle on the second board. From there, they must move to the other side of the board and make the dismount to the landing platform.
The obstacle took out a total of 24 competitors during Seattle-Tacoma qualifiers, including Jon Stewart, Sarah Schoback, Faris Xero, and Anna Christensen. During Seattle-Tacoma finals, only Jeremy Taiwo fell on the obstacle.
Other Season Appearances
American Ninja Warrior 12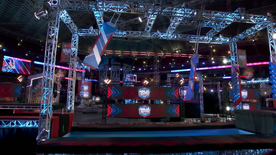 On American Ninja Warrior 12, the Lunatic Ledges appeared as the second obstacle during the second and third episodes of the qualifiers.
During the second episode of the qualifiers, only five competitors fell on the obstacle out of 35 attempts. However, during the third episode of the qualifiers, the obstacle became significantly more brutal, as it eliminated 14 out of 36 competitors who attempted it, including several notable competitors such as Bootie Cothran, Father Stephen Gadberry, and most shockingly, Michelle Warnky.
Competitors' Success Rate
All results based on the NBC broadcast and external information found
| ANW | Clears | Attempts | Percentage |
| --- | --- | --- | --- |
| ANW11 (qualifiers) | 68 | 92 | 73.91% |
| ANW11 (finals) | 32 | 33 | 96.97% |
| ANW12 (QF EP 2) | 30 | 35 | 85.71% |
| ANW12 (QF EP 3) | 22 | 36 | 61.11% |
| Total | 152 | 196 | 77.55% |
Trivia
The Lunatic Ledges shared similar qualities to several obstacles:

Tick Tock: both obstacles involved the competitors to build enough swing and momentum to grab an object while landing on the ledges below it.
Ledge Jump: the design of the boards for the Lunatic Ledges was incredibly similar to the ones used on the Ledge Jump.
External Links
Community content is available under
CC-BY-SA
unless otherwise noted.