Lucas Gomes is worship leader and YouTuber who is known for being part of the duo, the Brazi Bros with his brother, Alexio Gomes. which both have originated from Brazil. Lucas is the younger brother of the Brazi Bros.
Lucas has his own YouTube channel, as shown here. As of March 2019, the channel currently has over 110,000 subscribers.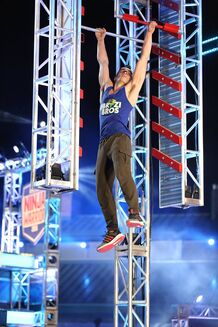 American Ninja Warrior 7
Lucas first competed in American Ninja Warrior 7. He made it through the Paddle Boards, but was disqualified on the obstacle when his foot touched the center axis.
American Ninja Warrior 8
He later competed in American Ninja Warrior 8 where this time, he completed the qualifying course with Alexio. However, he was one of many to fail the Floating Monkey Bars, and just barely missed out on the top 15, placing 16th. Lucas still qualified for Vegas however, filling in for Tyler Martin due to an injury. With Tyler Martin's withdrawal, Lucas was able to attempt the Vegas course alongside his brother. He fell on the first obstacle, Snake Run.
American Ninja Warrior 9
Lucas competed again in ANW9, once again finishing the qualifying course. He had the 10th fastest time in Daytona Beach qualifying. His run was digested in the city finals but it was shown that he failed the Giant Cubes. Lucas made it fast enough to place 11th overall, making his second trip to Vegas.
His run on Stage 1 was also digested, but it was shown that he got redemption on Snake Run, only to fall one obstacle later on the Propeller Bar. On YouTube, Lucas revealed that he rushed the Propeller Bar after getting revenge on Snake Run, mentioning that he could have paused for a moment before attempting. Given the time limit of 155 seconds, Lucas further believed he would have the liberty of pausing rather than going straight into the obstacle.
Neither he nor Alexio competed in American Ninja Warrior 10. On the Brazi Bros' YouTube channel, Lucas had vlogged that he waited in the walk-on line, waiting for a total of 28 days. However, he ultimately did not get a chance to compete. Lucas revealed that he was a tester for Miami, as well as the Vegas finals.
American Ninja Warrior 11
Lucas has confirmed on his YouTube page that he will be competing on American Ninja Warrior 11 in Atlanta, this time without his brother. His run in qualifying was cut from the broadcast, but it was revealed that he failed on the 5th obstacle, the Ferris Wheel. He shown on his channel that he made it to the end of the obstacle, but he grip gave out. Fortunately, his time to that obstacle was fast enough to make the top 30, as he placed 26th overall.
During city finals, he failed Up for Grabs, placing 18th with a time that was too slow to advance.
Community content is available under
CC-BY-SA
unless otherwise noted.