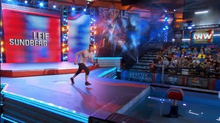 Leif Sundberg
is a Medical Technologist from Lakeville, Minnesota.
He is known as the Swedish Ninja for his Swedish heritage, who is well known for being capable of several Salmon Ladder tricks, including jumping the entire set of rings, doing it with one hand, and doing backflipped transitions.
Leif first competed in Indianapolis in American Ninja Warrior 8. In qualifying, he failed the Disc Runner after his feet splashed the water just inches away from the dismount platform.
He returned for American Ninja Warrior 10 and completed the Minneapolis qualifying course with the third best time. But despite his amazing qualifying run, he had an early exit on the Salmon Ladder, the very obstacle he is known for. It was shown that he attempted to jump the entire set of five rungs, only to land the bar crooked and cause it to slide off when he trying to correct it. He placed 21st overall and did not move on to the National Finals.
Leif returned for American Ninja Warrior 11 in Seattle/Tacoma. In qualifying, he blazed through the course and cleared in an amazingly fast 58.75 seconds, becoming the first competitor since Lorin Ball in American Ninja Warrior 7 to clear a course in less than a minute. He placed 1st, moving on to the Power Tower where he faced Sean Bryan. However, Sean seemed to have a much faster pace than Leif throughout the race, and eventually hit the buzzer well before Leif.
Despite his amazing performance in the qualifiers, Leif once again failed to move on to Vegas, as he failed the Lightning Bolts, placing 15th overall. Had he gotten the speed pass, or had it been a previous year he would have advanced to the national final.
Trivia
Community content is available under
CC-BY-SA
unless otherwise noted.