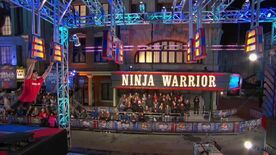 The Leaps of Faith is an obstacle, firstly introduced as the ninth obstacle during Los Angeles finals American Ninja Warrior 11.
It consisted of seven handholds, similar to those on the Window Hang. The first six handholds were made in sets of two, with the third and fourth handholds being made fold-in. The final handhold had a ledge on the other side, meaning competitors must use a reverse grip to reach it (a similar concept to the Fallout). Competitors must use their grip and upper-body strength to navigate through the handholds to reach the landing platform.
During Los Angeles finals, the obstacle was proven to be brutal, as it eliminated 11 competitors such as David Campbell, Kevin Bull, Adam Rayl, Hunter Guerard, Scott Wilson, Verdale Benson, Seth Rogers, and Ben Udy. Only Brian Kretsch and Flip Rodriguez could complete the obstacle.
An injury on the obstacle occurred during Hunter Guerard's run. As he tried to skip the seventh and final handhold entirely by making a dismount directly from the fifth and sixth handholds, he hit his forehead to the seventh handhold and fell into the water, causing a cut on it.
Other Appearances
Ninja Warrior Germany
Flug-Weg (Ninja Warrior Germany's name of Leaps of Faith) appeared as the fourth and penultimate obstacle of Stage Two, connected to the previous obstacle by a waiting bar. The main difference was the second pair of handholds was placed fold-in fixed. It was a ninja killer of the stage, taking out 11 out of 15 competitors attempted it, including Rene Kaselowsky, Jun Kim and Oliver Edelmann. However, some competitors like Moritz Hans, using his long hands to get to the final handhold without having to do a reverse jump.
Competitors' Success Rate
All results based on the NBC broadcast and external information found
| ANW | Clears | Attempts | Percentage |
| --- | --- | --- | --- |
| ANW11 | 2 | 13 | 15.38% |
| Total | 2 | 13 | 15.38% |
External Links