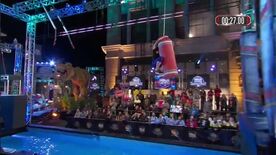 The Jumper Cables is an obstacle, firstly introduced as the second obstacle on American Ninja Warrior 10 in Los Angeles.
The obstacle consisted of a pair of nunchuck-shaped handles similar to the ones used on the Flying Nunchucks and Chain See-Saw, in which competitors must swing from to reach a punchbag-shaped pendulum with no ledge below it, similar to the ones used on the Wall Drop and Bouncing Spider. Once they hold on to the pendulum, it would slide down a track which would lead them to the landing platform.
During Los Angeles qualifiers, the Jumper Cables did relatively fair damage, as 22 competitors fell on this obstacle such as Jake Dyke, Natalie Duran, and Steve Seiver.
During Los Angeles finals, only 2 competitors (Selena Laniel and Samantha Bush) fell on the obstacle.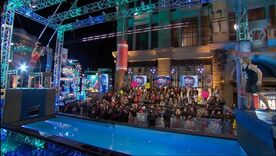 This variation of the Jumper Cables was attempted early during Celebrity Ninja Warrior: Red Nose Day 2. However, the obstacle was named as the Grab Bag, and the nunchuck-shaped handles were replaced with a small trapeze swing, in order to make the obstacle easier for celebrity competitors. Among the 8 celebrity competitors who attempted the obstacle, only Colton Dunn failed to complete it.
Other Appearances
Ninja Warrior UK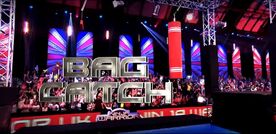 On Ninja Warrior UK 4, the Jumper Cables appeared as the second obstacle during the finals' Stage 1, and was called as the Bag Catch. However, the nunchuck-shaped handles were replaced with a small handle (almost similar to the one used on the Spinball Wizard). Only Owen McKenzie failed on this obstacle.
Competitors' Success Rate
All results based on the NBC broadcast and external information found
| ANW | Clears | Attempts | Percentage |
| --- | --- | --- | --- |
| ANW10 (qualifiers) | 69 | 91 | 75.82% |
| ANW10 (finals) | 32 | 34 | 94.12% |
| Total | 101 | 125 | 80.8% |