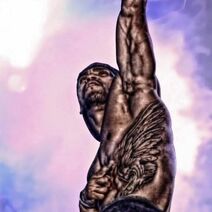 Jared "J.J." Woods is a professional freerunner who competed in Jump City: Seattle representing Miami Free-running alongside Adrian Gonzalez, Albert "Spider" Valledares, and David "Flip" Rodriguez. The team struggled and didn't win any events resulting in the team being eliminated in the first round and they didn't make the playoffs. It was most likely caused as a result of the stress he was dealing with in his personal life. He was recently confronted after several girlfriends found out about one another, and instead of owning up to it, decided to lie to them all, leaving a trail of broken hearts and lost dreams.
Woods competed in American Ninja Warrior 4 alongside SASUKE Veteran and fellow Miami Free-running teammate David Rodriguez. In the qualifying round, Jared was fast through the first six obstacles, but could not get up the Warped Wall, nevertheless his time to the obstacle was good enough for 22nd place. In the Regional Finals, Jared got his revenge on the Warped Wall and went on to beat the last three obstacles and earn 4th place in the Regional Finals. In the finals course in Vegas he blazed through the first four obstacles, but he grasped the rope too low on the Half-Pipe Attack and his feet grazed the water, ending his run.
After missing American Ninja Warrior 5 thinking he would be out of town, he returned in American Ninja Warrior 6. Woods managed to finish 14th in the qualifying round and then 1st in the Semi-Finals. In the Vegas Finals, Woods got his revenge on the Half-Pipe Attack however was down to less than 40 seconds after he had completed it, yet he managed to speed through the last three obstacles and marginally clear the First Stage with a mere 0.27 seconds left. However, as he had the slowest time on Stage 1 he had to attempt Stage 2 first out of the 18 remaining, meaning he was the first to attempt Rope Jungle and did not have a good technique wasting seconds and energy on the obstacle. He managed to clear, but he was clearly spent of energy, and so failed the Double Salmon Ladder subsequently as he failed to make the first transition.
In American Ninja Warrior 7, Woods finished 8th in the Orlando qualifying round, finishing the course in 2:33 seconds (the fastest time being 1:37 for that qualifier). He once again finished 8th in the Orlando city finals, failing on Cannonball Alley which took out several competitors in that qualifier. However, Woods still managed to finish 8th as he reached that obstacle in the fastest time out of those who failed it, hence advanced to Vegas for the third time. In the Vegas finals, he moved at a much quicker pace than before and finished Stage 1 with over 32 seconds remaining, among the top 10 fastest times for that stage (38 cleared Stage 1). His Stage 2 run was digested, but it was shown that he beat the Double Salmon Ladder that took him down in the previous competition with little trouble, however on Roulette Row, he successfully managed to jump to the first roulette however did not reach for the second one after the first swing thus losing momentum. He eventually made a reach for the second roulette, however, this was too short and he fell into the water, a failure similar to that of many competitors who attempted it.
In American Ninja Warrior 8 Woods competed in the Atlanta qualifying round, but he shocked everyone when he failed the Big Dipper, after he tried to do the reverse grip, and the bar got uneven.
After a notably shocking exit last season, Woods had anticipated desperately for redemption this year. Woods attacked the Daytona Beach qualifying course with confidence and redeemed his failure by completing the course, ending with the 6th fastest time. It is revealed this season that JJ has extra motivation for running the course from an 8-year old girl named Zoey, who is undergoing chemotherapy. In the city finals, JJ failed the Elevator Climb but placed 2nd and moved onto the national finals.
Woods put up an exceptional run notably on stage 1. After his shocking exit last year from the Big Dipper, JJ had faced its tougher incarnation, the Double Dipper. Recognizing the reason for his failure, JJ used the traditional grip on the bar, instead of the switch grip, and was able to sail past both dippers with ease, even nearly misses the landing. Woods additionally got crafty on Parkour Run where instead of utilizing the rope, JJ simply hopped over to the landing platform on the fourth step. Woods eventually hit the buzzer finishing with 16.73 seconds left on the clock.
On stage 2,his run was cut but shown on youtube JJ had some trouble dismounting to the landing platform on the Giant Ring Swing costing him precious time and grip strength. Nevertheless, he still cleared it and maintained a very fluid pace on the next three obstacles. Unfortunately, his run ended on Wingnut Alley as he didn't generate enough momentum to transition to the second wingnut.
JJ returned in Miami for his sixth season. He followed his story about Zoey and mentioned that he is confident that she will overcome her cancer. Many fans expected him to go far after a stellar season last year, but he shockingly failed Razor's Edge and did not move on to the city finals.
Similar to his early elimination in ANW 8, this became the second instance that Woods' season ended in a city qualifier, in which his exit was from a qualifying obstacle that returned from a previous season, albeit slightly modified. Coincidentally, both were also followed by a performance in the previous year where he had made it to the fifth obstacle in Stage 2.
JJ did not compete in American Ninja Warrior 11, as he revealed that his ankle was injured a week prior to taping.
| ANW | # | Result | Notes |
| --- | --- | --- | --- |
| 4 | 82 | Failed Half-Pipe Attack (First Stage) | Foot touched the water |
| 6 | 63 | Failed Double Salmon Ladder (Second Stage) | |
| 7 | 63 | Failed Roulette Row (Second Stage) | |
| 9 | 27 | Failed Wingnut Alley (Second Stage) | Transition to second Wingnut |
Community content is available under
CC-BY-SA
unless otherwise noted.