James Sclar is a culinary student and surfer enthusiast. He first competed in season 4, and has shown that his skills translate well to American Ninja Warrior.
In American Ninja Warrior 4, he made it to the Northwest Regional Finals and got disqualified on the Salmon Ladder when he grabbed the rung with his hand, even though he went in the water on the Arm Rings.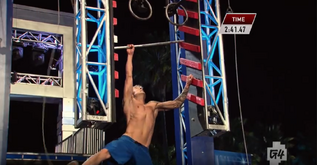 In American Ninja Warrior 5, he defeated the Salmon Ladder without grabbing the rung, besting his performance in the previous tournament. But he tore/sprained his shoulder on the Spider Climb when he went with an unorthodox approach to the obstacle. Luckily, he qualified for the National Finals in Las Vegas where he failed on the Jumping Spider.
He returned for American Ninja Warrior 6, Here, he completed qualifying, but in the city finals he failed on the Salmon Ladder and did not move on to Vegas.
On James' Linkedin, he is stated to be a 4 time ninja veteran, so it is assumed he competed in Venice during season 7. Although his result is unknown, it is speculated that he failed the Mini Silk Slider, much like many that night.
Community content is available under
CC-BY-SA
unless otherwise noted.