Izumi Mika (泉 美香), later known by her married name since SASUKE RISING era, Watanabe Mika (渡邉 美香), is a former Jazz Dance Instructor and also a member of KUNOICHI All-Stars. She showed considerable potential in both SASUKE and KUNOICHI.
SASUKE Career
She first made her debut on SASUKE 12. There, she failed Jump Hang after mis-hit the trampoline, giving her virtually no chance of clearing.
She then participated in SASUKE 13 Trials. During her first attempt, she train hard on the trampoline jump, expecting to overcome Jump Hang that took her down months ago. However, shockingly, she went out on Quarter Bridge, in which she went too far to the right of the obstacle, resulting in the obstacle titled almost all the way to its centre axis. With nothing to step on, she went down to the water.
Naturally disappointed by this, she increase her training, exclusively for her balance and her trampoline skills. She returned months later and after seeing fellow KUNOICHI All-Stars Yusa Masami beating the trampoline jump that also haunt her, she was more determined to beat it. After able to ease her mind by clearing Quarter Bridge which took her down last time, she finally able to do the trampoline jump correctly and beat Jump Hang. But, she was slow coming out of the net, giving her only six seconds to attempt Soritatsu Kabe, which she brilliantly able to conquer in one try. Sadly, her time ran out as she was climbing over the top of the wall, however, with such performance, she was granted a spot in the actual tournament as she is the best performing woman competitor (Top 10 woman competitors get an automatic spot no matter where they ranked in the overall ranking). At the actual tournament itself, she was given #96 (which at that time was the highest number given to a woman, given for the second time after Shimizu Asuka in SASUKE 9) based on her Trials performance, in hope that she will be the second woman to clear First Stage after Tanabe Chie 11 tournaments ago. However, she shocked everyone after she can't get enough speed to overcome Prism See-Saw. she would then had a long hiatus.
She then returned in SASUKE RISING era, now under her married name. In SASUKE 28 she failed Rolling Escargot. In SASUKE 29, she made it to Jump Hang Kai where she managed to grab the net and temporarily hold on before dropping into the water, her best result in SASUKE. In SASUKE 30 she failed Hedgehog in a digested performance, then fail Orugōru in another digested performance in SASUKE 31. Her run was All-Cut in SASUKE 32, but it is known that she fail TIE Fighter there. She has not completed since.
KUNOICHI Career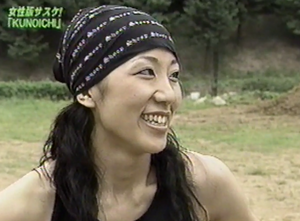 Izumi also competed in five KUNOICHI tournaments. In her first tournament, KUNOICHI 2003, she made it all the way to Final Stage, but ultimately fell about one second short of Kanzenseiha. She returned for KUNOICHI 2004 as the only finalist from the previous tournament to cleared the First Stage, but hurried through Sanrentobi in Second Stage, and lost her balance on the final beam.
She returned in KUNOICHI 2017 Spring as one of the only two competitors who completed in 2017 reboot era of KUNOICHI, the other being Mizuno Yuko. Wearing #39, she managed to perform well during RED Stage (First Stage), even manage to beat both Jump Hang and Soritatsu Kabe (now named Steep Wall for KUNOICHI) again, but unfortunately timed out at the last obstacle, Cannon Ball. she then completed again in KUNOICHI 2017 Autumn, where she take her revenge and cleared RED Stage, but she timed out on Reverse Conveyor in BLUE Stage (Second Stage). she returned to complete in KUNOICHI 2018 and was given #49 (equivalent to #99). she cleared RED Stage again, however, timed out once more in BLUE Stage, this time on Wall Lifting.
Trivia
In SASUKE 13, Izumi was given #96, which was the highest number given to a woman competitor in SASUKE history at that time, along with Shimizu Asuka who received that number in SASUKE 9. Jessie Graff now holds the achievement of receiving the highest number given to a woman competitor as she was given #98 in SASUKE 37.
Izumi is known for clearing Soritatsu Kabe in SASUKE 13 Trials, which is one of the first instances of a woman completing the obstacle.
Izumi was one of the finalists in KUNOICHI who had relation with Muscle Musical, as she was member of it during her reboot era appearances.
Watanabe and Mizuno Yuko are the only two competitors in KUNOICHI 2017 Spring who completed in 2017 rendition era.
Watanabe always timed out whenever she competing in KUNOICHI's modern era.
Results
SASUKE
KUNOICHI