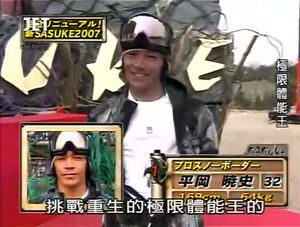 Hiraoka Akifumi (平岡 暁史) is a professional snowboarder who has competed in three tournaments starting in SASUKE 17. There, he failed the Sandan Rolling Maruta.
He is probably most known for being the first person to attempt Shin-SASUKE, the new course after Nagano Makoto's kanzenseiha. He was the first to attempt and fail the new Rope Glider when he slid off the landing platform.
He competed one more time in SASUKE 21 where he made it to the Jumping Spider but was unable to stick to the walls.
Results
| SASUKE | # | Result | Notes |
| --- | --- | --- | --- |
| 17 | | Failed Sandan Rolling Maruta (First Stage) | Digest |
| 18 | 1 | Failed Rope Glider (First Stage) | |
| 21 | 57 | Failed Jumping Spider (First Stage) | Digest |