Hatakeda Yoshiaki (畠田 好章) is a gymnast who competed in the 1992

Olympics in Barcelona, where he won a bronze medal in the Individual All-Around.
He also tried his hand at SASUKE, competing in the sixth tournament and reaching the Third Stage but failing at the Cliffhanger. He has never competed in any SASUKE tournament ever since.
Trivia
Yoshiaki is notable for being the first person to reach the very top of the Jump Hang on his jump and the only person to grab it with both hands, achieving that feat in SASUKE 6.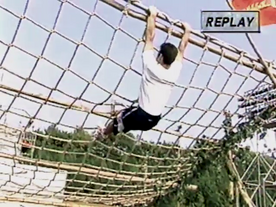 Results
| SASUKE | # | Result | Notes |
| --- | --- | --- | --- |
| 6 | 83 | Failed Cliffhanger (Third Stage) | |