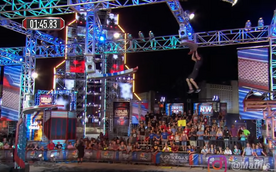 The Grim Sweeper is an obstacle, firstly introduced on American Ninja Warrior 11 as the fifth obstacle in Stage Two, replacing the Wingnut Alley from the past two seasons.
This obstacle had a similar concept to the Propeller Bar, except the Grip Sweeper featured three giant blades, shaped like a blade of a scythe, as well as bearing similar resemblance of a karambit knife.
Competitors must grab the first blade and transit to each subsequent blade. Each blade rotated in order to transit in between the blades and moved slower than the propeller for the Propeller Bar.
In contrast to the Wingnut Alley, the obstacle was proven to be incredibly easy, as it only took out Mathis Owhadi on his first attempt (who ended up completing it on his second attempt, thanks to the Safety Pass that he earned during Oklahoma City finals), though several competitors showed signs of struggling. However, during USA vs. The World 6, the obstacle shockingly eliminated Karsten Williams from Team USA.
On American Ninja Warrior 13, the obstacle is replaced by the Epic Air Surfer.
Other Appearances
Ninja Warrior France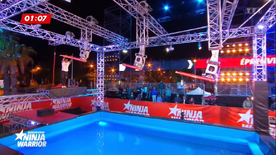 Les 3 Griffes, Ninja Warrior France's official name for the Grim Sweeper would appear as the third obstacle of Qualification 2 of Ninja Warrior France 6. It is paired with the Beehive as part of Route A of the Crossroads. Due to limited space constraints that the course has compared to the American version, the blades of the obstacle would be smaller in size. The obstacle would also feature a rope at the start of the obstacle which will aid competitors to a platform to which they can reach the first blade.
Competitors' Success Rate
All results based on the NBC broadcast and external information found
External Links