Giant Swing (ジャイアントスイング) is a First Stage obstacle originally introduced in SASUKE 26 to replace Circle Slider as the seventh obstacle, however, it was relocated to the third position in SASUKE 27. Competitors must jump from a springboard to grab a giant bar and swing that bar to reach the cargo net, before climbing up or down the cargo net to reach the platform in a similar fashion to Slider Jump.
The obstacle proved easy, as only one competitor, Adam Truesdell, failed on this obstacle. However, it served very efficiently as a time waster, as some competitors like Kawahara Takuya and Morikami Daisuke would later time out at Rope Ladder, with some competitors like Paul Kasemir and Lee En-Chih almost timing out too.
In SASUKE 27, the obstacle got minor modification, as the net was removed, meaning competitors now must reach a giant angled platform. The modification and the fact it was attempted earlier than the previous tournament gave this version a worse clear rate than the original version, eliminating twelve competitors, including Hioki Masashi and Enokido Hayato.
Due to Urushihara Yuuji's second Kanzenseiha in SASUKE 27, this obstacle was replaced by the relocated Spin Bridge in the following tournament.
Competitors' Success Rate
All results based on the TBS broadcast and external information found.
| SASUKE | Clears | Attempts | Percentage |
| --- | --- | --- | --- |
| 26 | 13 | 14 | 92.86% |
| 27 | 48 | 60 | 80% |
| Total | 61 | 74 | 82.43% |
Other Appearances
American Ninja Warrior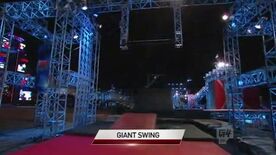 SASUKE 27 version of the Giant Swing appeared as the third obstacle in Stage One in American Ninja Warrior 4, with only 8 out of 93 competitors who attempted this obstacle failing to complete it (including Kelvin Antoine, Tom Hutchman, and Adam Grossman).
In American Ninja Warrior 5, the obstacle was replaced by the Rope Glider.
SASUKE Vietnam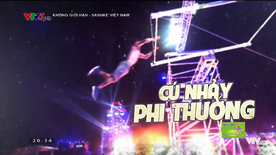 Cú Nhảy Phi Thường, SASUKE Vietnam's official name for Giant Swing, appeared as the fourth obstacle in Stage 1B from SASUKE Vietnam 1 to SASUKE Vietnam 3, which was similar to the SASUKE 27 or American Ninja Warrior 4's version of Giant Swing. However, after landing successfully on the angled platform, competitors must go up instead of going sideways.
In SASUKE Vietnam 1, the obstacle had a 61.25% completion rate in Stage 1A, eliminating 31 out of 80 competitors who attempted it.
In SASUKE Vietnam 3, the obstacle was eliminated Nguyễn Phước Huynh, one of the three competitors who achieved total victory in SASUKE Vietnam 2, when he failed to reach the bar. It also eliminated Lê Văn Đại, when he slipped at the angled platform and fell into the water.
In SASUKE Vietnam 4, the obstacle was replaced by Jump Hang Kai.
Competitors' Success Rate
All results based on the NBC broadcast and external information found.
| ANW | Clears | Attempts | Percentage |
| --- | --- | --- | --- |
| ANW4 | 85 | 93 | 91.40% |
| Total | 85 | 93 | 91.40% |