Geoff Britten (ジェフ・ブリテン) is a cameraman from Olney, Maryland. He is nicknamed "Popeye" because of his abnormally large forearms. He is famously known for being the first ever American Ninja Warrior, achieving total victory on season 7.
American Ninja Warrior 6
He first competed in American Ninja Warrior 6 where he was the only rookie to complete the St. Louis Finals course. In Vegas, his run was all cut, but it was later revealed he fell on the Jumping Spider.
He returned in American Ninja Warrior 7 stronger than ever, with fellow competitor Joe Moravsky even choosing him as his pick to advance all the way to Total Victory. He completed the Pittsburgh Qualifying and was the fastest finisher on the city finals course. Britten set a blazing pace through all of the upper-body obstacles, including the Devil Steps, Doorknob Arch, and Invisible Ladder .
In Vegas, he completed the Jumping Spider and finished Stage One. He then finished Stage Two with the fastest time of all eight finishers finishing with 29.11 seconds remaining. He was the last to run Stage Three and he almost fell on the last rung of the Flying Bar with his grip giving out, managing to hold on with his fingertips and became the second competitor to complete Stage Three, collapsing on the mat.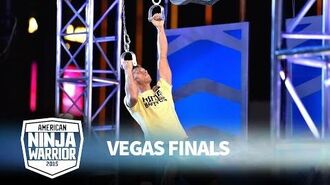 Having completed Stage Three in a slower time than fellow finalist Isaac Caldiero, attempted the final stage before Caldiero due to Issac's decision. Despite this, Britten completed the final stage with 0.3 seconds remaining, becoming the first American in both SASUKE and American Ninja Warrior history to achieve Kanzenseiha/Total Victory. Geoff is also the first competitor to have a perfect season, having hit all six possible finish buttons in a season, and clearing the Third Stage and claiming the first ascent.
Due to the rules of American Ninja Warrior, however, which stated that only the competitor with the fastest time to complete the Final Stage would "win," Britten was defeated by fellow finalist Isaac Caldiero, who ascended the tower second but in a faster time. Because of this, Controversy rose over the rules of the stage, and starting from American Ninja Warrior 8, the rules were changed to splitting the prize money should 2 or more competitors finish the final stage.
Britten was part of Team USA on the USA vs. The World 2016 tournament. Geoff was supposed to run Stage Two and Stage Three, but because of flu-like symptoms, he was replaced by the alternate
Joe Moravsky
. In the end, the Americans ended up winning the tournament.
In American Ninja Warrior 8, Geoff competed in Philadelphia. But this time, he competed along with his wife Jessica. In Qualifying, while Jessica failed the Wall Drop during her run, Geoff made history by hitting the buzzer 7 times in a row and finished the course as one of only nine finishers in 7th place at 3:33.97, especially completing the Wall Drop and the Rolling Thunder. In the Finals, however, he failed on the Stair Hopper, ending his streak of hitting consecutive buzzers. His 8th place finish still earned him to the Las Vegas National Finals.
Unfortunately, in shock of everyone, he went out on the first obstacle, Snake Run, in Stage One. Britten's misstep on Snake Run was one of the most unimaginable shockers in the competition, if not the biggest one.
Temporary Retirement
Britten announced via his Facebook and Instagram page that he will be taken time off from American Ninja Warrior and probably won't return until he is 40. Besides that, in the book titled, Become An American Ninja Warrior, Geoff said that American Ninja Warrior 11 might be his last ever tournament. He said he would give American Ninja Warrior at least one more go
Even though he would take a time off from American Ninja Warrior, on American Ninja Warrior 9, he was hired by ATS (the group that builds all of the obstacles that are presented on the show) to become a tester for the obstacles that are built, testing out the difficulty of these obstacles and working with the producers to gauge the difficulty of the obstacles, whether or not they would increase the difficulty or tone it down.
With that in mind, he can still be a competitor on American Ninja Warrior, the rules for working on the show and competing are that you have to have a year between. It means that he can work for American Ninja Warrior 9 and compete on Season 11.
It was also revealed by Jamie Rahn in American Ninja Warrior 10 that Britten will serve as the creative director of Ninja Nation, a new ANW business founded by Ryan Stratis, Karsten Williams, himself and Britten. The business opened in September 2018 in Lafayette, Colorado.
Return to American Ninja Warrior
Days after Isaac Caldiero's announcement of his return on American Ninja Warrior by attempting the American Ninja Warrior 10 course in Indianapolis, Britten also announced via the Armchair Ninja Podcast that he will return to American Ninja Warrior by attempting the American Ninja Warrior 11 course.
Britten has confirmed on competing in the Tacoma course. Although his run was perhaps the most anticipated run of the season, his return was extremely short-lived. As arguably one of the season's largest shockers, he did not even make it past the qualifying course, stumbling and falling on the Broken Bridge. This was the first time that Geoff failed to finish a qualifying course, let alone advance to the city finals and the Las Vegas finals.
On a somber note, he revealed on social media that his run was supposed to be
in honor of Travis McDaniel
, the former president of the ATS Team who tragically passed away from leukemia on May 1, 2019. This was due to him working with ATS in 2017, one year after his last appearance in ANW 8.
Trivia
Geoff currently holds the overall record for the least amount of tournaments taken for a man to achieve Kanzenseiha, taking only two. With the record with the least amount of tournaments taken to achieved Kanzenseiha is only one, as Miyake Ayako achieved her first of three straight kanzenseihas in her debut on KUNOICHI 4.
Geoff is the oldest person to achieve Kanzenseiha, having done so at 36 years of age.
Geoff is the only person to have a perfect season, which means he hit six buzzers (no buzzer present on Third Stage) and completed the Third Stage, never failing a course.
Geoff holds the record for the number of buzzers hit continuously without falling, at seven (including all six in American Ninja Warrior 7 and qualifying in American Ninja Warrior 8).
Geoff was invited to compete in SASUKE 32 but was forced to withdraw when the taping was brought forward by three weeks, causing a clash between the taping of the Philadelphia Regionals of American Ninja Warrior 8 and SASUKE 32.
Geoff has a 100% clear rate for the Second, Third and Final Stages.
It was revealed in ANW 7 that Britten can scale the Salmon Ladder with a single arm.
Since the opening of Britten's new business, Ninja Nation, Britten's new motto is called "1 Million Heroes". Britten calls it "one million kids and adults pushing their minds and bodies to limits they never thought was possible."
American Ninja Warrior Results
| ANW | Result | Notes |
| --- | --- | --- |
| 6 | Failed Jumping Spider (First Stage) | All Cut |
| 7 | Kanzenseiha (00.35 seconds left) | First Ascent, but was slower than Isaac Caldiero thus failing to get the $1,000,000 prize. |
| 8 | Failed Snake Run (First Stage) | Stated he would no longer train for the show because he would rather raise his family in the post run interview. |
Community content is available under
CC-BY-SA
unless otherwise noted.