Megumi first time was in SASUKE 5.Here she was one of the many female athletes to run that day.But she became the only woman to beat the rolling maruta the whole day.She sadly failed just two obstacles later on the deadly Jump Hang.Due to her great run in SASUKE 5 she was given a spot in SASUKE 6 where she given a very high number of #90.She was only one of a few woman to reach the Jump Hang that day.Than a few months later in early 2001 she came back for her final SASUKE run.She was hoping to finally beat the Jump Hang but she was shocked when she became yet one of many woman to fail the rolling maruta meanwhile Yusa Masami was the only woman to beat it all day.
She has also been on KUNOICHI twice.First was in KUNOICHI 2002 over a year after her last SASUKE appearance.She did very well becoming the first person the day to pass the enchu nori.It looked liked she would be the first woman to clear that day but sadly failed a later in stage 1 on the Sarerobi.Nobody easl would get that far for almost 50 runs.Than she came back years later in KUNOICHI 5 which took place at the very end of 2005.She was given #97 where she hoping to go far today but sadly could not even pass the second obstacle where she slipped at the end of the Fuchawatari.She has not been on SASUKE and KUNOICHI since than.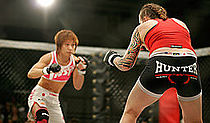 Community content is available under
CC-BY-SA
unless otherwise noted.