The Frame Slider is an obstacle first introduced as the second obstacle on American Ninja Warrior 5 in Venice Beach.
Competitors must prop themselves up inside a hanging frame (in a similar position to the Spider Walk or Jumping Spider), then slide down the track with a drop at the middle of the track.
During Venice Beach qualifiers, the Frame Slider had a decent knockout rate, eliminating some top competitors such as Kelvin Antoine, Natalie Duran, and even dislocating Alan Connealy's shoulder after falling into the water. However, during Venice Beach finals, no competitor fell on this obstacle.
This obstacle has a similar concept to the TIE Fighter, which would be first used in SASUKE 32.
Other Appearances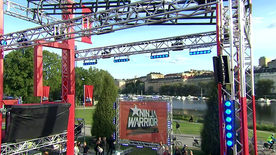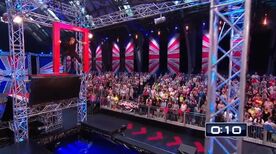 The Frame Slider has been used on several Ninja Warrior's international formats (e.g. Ninja Warrior Sweden 2, Ninja Warrior UK 2, and Australian Ninja Warrior 2).