Fish Bone (フィッシュボーン) is a new obstacle introduced in KUNOICHI 9's RED Stage (First Stage).
The obstacle consists of several spinning crosses (eighteen bars) and four pedestals.
Competitors have to maneuver from pedestal to pedestal while dodging the spinning crosses in counter-clockwise direction that are above the pedestals.
This obstacle caused chaos in KUNOICHI 9, eliminating over half of the competitors who attempted it, including Mizuno Yuko, a KUNOICHI 2 and 3 finalist. It again eliminated a lot of competitors who attempted it in KUNOICHI 10.
Competitors' Success Rate
All results based on the TBS broadcast and external information found
| KUNOICHI | Clears | Attempts | Percentage |
| --- | --- | --- | --- |
| 9 | 14 | 35 | 40% |
| 10 | 20 | 32 | 62.5% |
| 11 | 27 | 43 | 62.79% |
| Total | 61 | 110 | 55.45% |
SASUKE Appearances
It was revealed through images of the First Stage posted online, that the Fish Bone became the fourth obstacle in SASUKE 33's First Stage, replacing the Orugōru.
In this version of the obstacle, the pedestals differentiate in height, while in KUNOICHI 9, they were all at the same height. It was revealed via a trailer that the width of the surface is 30cm for each pedestal.
The obstacle was proven to be relatively difficult, much like its KUNOICHI counterpart, managing to take out Shin Sedai member Matachi Ryo, and nearly eliminating SASUKE champion Morimoto Yūsuke, with his foot just inches from touching the water.
Due to safety reasons, competitors would be disqualified if they grabbed one of the bars, intentionally or not. Liao Long Zhun grabbed the bar while trying to maintain balance, got disqualified and lost his balance and fell in the water in that tournament.
In SASUKE 34, it was known that two additional bars was added to make the obstacle tougher, making it a total of 20 bars. It was proven to be as difficult as the previous tournament, as Matsuda Daisuke failed for the second consecutive time, albeit he built the obstacle and trained on it. Dion Trigg also failed at this obstacle. During the broadcast, it was revealed that out of 80 competitors, 20 of them has failed this obstacle.
Two additional bars were yet again added in SASUKE 35, totalize the number of bars to 22 and making it one of the eight obstacles to be modified in three consecutive SASUKE tournaments, along with the Jumping Spider, Flying Chute, Half-Pipe Attack, Bungee Rope Climb, Rolling Escargot, Vertical Limit and Sidewinder R. It managed to take out Suzuki Yusuke, Takeru, and Yamamoto Shingo, all whom had passed during the previous 2 tournaments.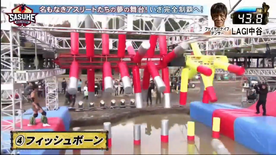 In SASUKE 37, this obstacle was heavily modified, an addition of two more pedestals and nine more additional bars which spun clockwise (in opposite with 22 previous bars which spun counter-clockwise) were added at the end, a total of 31 bars. This made the obstacle more difficult, as it wiped out Araki Naoyuki, Oshima Ayano, Nagasaki Shunsuke, and Matachi Ryo, all whom had passed in the previous tournament.
Despite that, the obstacle had a higher success rate than in KUNOICHI, due to the fact only 50 competitors competed in KUNOICHI from KUNOICHI 9 onwards.
In SASUKE 38, three instances of a rare rule violation occurred on the obstacle when Yamamoto Akihiro, Takano Kairu and Takeda Toshihiro were disqualified post-run for skipping the last pedestal and jumping to the mats at the end of the obstacle as all pedestals must be crossed to complete the obstacle. All three continued on the course and while Yamamoto and Takano would later fail the Dragon Glider, Takeda was revealed via Paravi to have finished the remainder of the stage with 14.83 seconds left.
Competitors' Success Rate
All results based on the TBS broadcast and external information found
| SASUKE | Clears | Attempts | Percentage |
| --- | --- | --- | --- |
| 33 | 37 | 55 | 67.27% |
| 34 | 48 | 70 | 68.57% |
| 35 | 39 | 55 | 70.90% |
| 36 | 44 | 54 | 81.48% |
| 37 | 34 | 49 | 69.38% |
| 38 | 50 | 66 | 75.76% |
| Total | 252 | 349 | 72.21% |