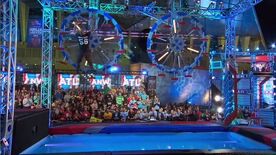 The Ferris Wheel is an obstacle, firstly introduced as the fifth obstacle on American Ninja Warrior 11 in Atlanta.
It consisted of two large wheels, each with twelve handles that could swing side-by-side attached around it.
Competitors must work the way across the wheels to reach the landing platform. When the competitors reached the top of each wheel, it would rotate clockwise in favor of their weight, creating a drop that tested their grip strength (a very similar concept to the Doorknob Drop). Competitors were allowed to traverse from the bottom part of the wheels, but it required more time and strength to lock the wheel in place.
During Atlanta qualifiers, 11 competitors fell on this obstacle, including Lucas Gomes, Morgan Wright, Devin Harrelson, Ronald Washington, Glenn Davis, Ben Wilson, and Caleb Auer. With the exception of Morgan Wright, every competitor who reached this obstacle advanced to Atlanta finals (including Alyssa Varsalona, who advanced via the top 5 female competitors).
During Atlanta finals, the obstacle only eliminated Caitlyn Bergstrom, Chad Hohn, and Chris Howard.
Other Season Appearances
American Ninja Warrior 12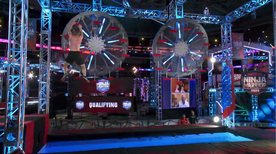 On American Ninja Warrior 12, the Ferris Wheel appeared as the fifth obstacle during the second and third episodes of the qualifiers.
During the second episode of the qualifiers, a total of 19 competitors attempted the obstacle and 14 of them completed it. Only Caitlyn Bergstrom, DeShawn Harris, Ronald Washington, Barry Goers, and Glenn Albright were taken out here.
However, during the third episode of the qualifiers, the obstacle became more brutal, as out of the 16 competitors who attempted this obstacle, seven of them were taken out by it, including Devin Harrelson (who failed on the same obstacle during Atlanta qualifiers on the previous season, but completed it during Atlanta finals), Lorin Ball, Ben Melick, Sem Garay, and much to the shock of everyone, Adam Rayl. This obstacle became the cut-off for the competitors to advance to the semifinals.
Other Appearances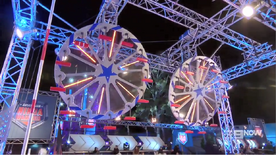 On Australian Ninja Warrior 4, the Ferris Wheel appeared as the seventh obstacle in Stage One, with a pole at the start of the obstacle, as a medium to reach the first wheel. Later, the obstacle appeared as the fifth obstacle in Round Two of the finals on Australian Ninja Warrior: State of Origin.
Competitors' Success Rate
All results based on the NBC broadcast and external information found
| ANW | Clears | Attempts | Percentage |
| --- | --- | --- | --- |
| ANW11 (qualifiers) | 21 | 32 | 65.63% |
| ANW11 (finals) | 21 | 24 | 87.5% |
| ANW12 (QF EP 2) | 14 | 19 | 73.68% |
| ANW12 (QF EP 3) | 9 | 16 | 56.25% |
| Total | 65 | 91 | 71.43% |
External Links
Community content is available under
CC-BY-SA
unless otherwise noted.