Faris Xero
is the creative director of his own movie/television studio, Xero Studio, in Altamonte Springs, Florida. On the course, Xero is known by many for his ninja costume, which was custom-made from himself.
Xero first competed in American Ninja Warrior 8 debuting his ninja costume, competing in Philadelphia. Xero made it past the first three obstacles, but later took off his ninja costume on the Wall Drop. He managed to clear the main part of the obstacle, but he did not have enough momentum dismounting off the pipe, causing him to his balance and tip off the course, pulling off the safety mat of the truss in the process.
Xero competed in American Ninja Warrior 9 in Daytona Beach, where his run was all cut in qualifying, but it was shown that he made it to the Rolling Thunder, the obstacle he just barely missed out on attempting last season, and placed 23rd overall. In the city finals, Faris got past the Rolling Thunder, but fell on the Salmon Ladder, where just like in qualifying, placed 23rd overall.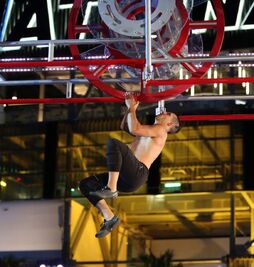 He competed in Tacoma in American Ninja Warrior 11. His run was cut, but he failed just the second obstacle, the Lunatic Ledges.
He actually competed this season as a walk-on competitor, having not gotten the call back and receiving a lucky ticket in the walk-on lottery.
Community content is available under
CC-BY-SA
unless otherwise noted.