Ethan Swanson
, better known as
The Swan
or
The Daredevil
, is a data analyst and current stuntman from Chicago,
Illinois. Since American Ninja Warrior 9, Swanson has also acquired the nickname "
The Swan
". Because of this, Swanson commonly has his own celebration move where he flaps his arms up and down.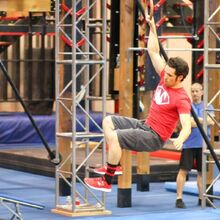 Ethan first competed in St. Louis in American Ninja Warrior 6. Swanson had been able to breeze through all six obstacles in qualifying with ease. However, as a shocker, it was shown he was disqualified on the Rolling Maruta for splashing the water, which his foot touched just barely.
Ethan returned again in American Ninja Warrior 7 and competed in Kansas City his run in qualifying was cut but he finished the course without disqualification this time, placing 21st overall. In the finals, his run was cut from the broadcast but it shown in the next season that he failed the Flying Shelf Grab. He placed 18th overall, and did not make it into the Vegas finals.
Ethan returned to compete in American Ninja Warrior 8, now much stronger than ever. He competed in Indianapolis where his run in Qualifying was cut but he finished the course placing 11th in the top 30. In the city finals, Ethan put up a very impressive run, becoming the first competitor of the night to conquer the Hourglass Drop. He then cleared the new Circuit Board, the penultimate obstacle of the Indianapolis finals course. Swanson failed the Invisible Ladder, but he managed to place 5th overall, making it his first time he advanced to Mount Midoriyama. In Vegas, Ethan's run was digested on Stage 1, but it was shown that he finished the course with 2.10 seconds left. His run on stage 2 was also digested but it was shown that he failed the Down Up Salmon Ladder.
Ethan once again competed in Kansas City in ANW 9, where he now is known as his new nickname, "The Swan". Swanson completed the qualifying course and placed 5th overall, and even did the "Swan" celebration with many competitors and even Akbar joining in his celebration. He was one of only 10 competitors to finish the KC qualifying course.
Unfortunately, in the city finals, while he made short work of the first two obstacles, he shockingly failed the Broken Pipes, when his hopped past the spring and miss-stepped on the second pipe. He placed 26th overall, and didn't make it back to Vegas.
Ethan returned to compete in Indianapolis in American Ninja Warrior 10. His run was digested in qualifying but it was shown that he fell on the Spin Hopper, which placed him 11th overall. This actually marked Swanson's first time failing to reach the buzzer in qualifying (this even counts ANW 6, where although he was DQ'd, he still finished the course).
During the Indianapolis finals, he got redemption on the Spin Hopper, and later had no problem with the back half of the course. After barely missing out two years ago in Indianapolis, Swanson battled the tenth obstacle, the Spider Trap, and punched his first city finals buzzer in his career. He placed 1st overall, beating Trevor West's time by almost 4 seconds.
In Stage 1, Swanson had a close call on the dismount of Jeep Run, but scrambled through the course with 21.21 seconds to spare.
His run on Stage 2 was digested but it was shown that he failed Wingnut Alley.
Ethan returned to compete in Cincinnati. He revealed that this season, he did more of his dangerous stunts to train his nerves much more this season.
During the qualifiers, his training payed off well, as he blazed through the course without hesitation and getting the fastest time of the night and becoming one of two to face the Power Tower. At the Power Tower, he and Jackson Twait were neck and neck with Jackson in the slight lead. Eventually, Ethan managed to speed his way for the win and automatically qualifying for Vegas. He crushed stage 1 and 2 and is moving on to Stage 3 for the 1st time. In stage 3, he wanted to become the first competitor from his Chicago group that made it to stage 3 to beat the Ultimate Cliffhanger. He was able to make the moving transition, but he seemed to get tired near the end on the last ledge and came up few feet short. Barely touching the dismount platform. This caused everyone from Chicago that has made it to stage 3 to all fail the Ultimate Cliffhanger.
| ANW | Result | Notes |
| --- | --- | --- |
| 8 | Failed Down-Up Salmon Ladder (Second Stage) | |
| 10 | Failed Wingnut Alley (Second Stage) | |
| 11 | Failed Ultimate Cliffhanger (Third Stage) | Won Speed Pass in Cincinnati Qualifiers |
Community content is available under
CC-BY-SA
unless otherwise noted.