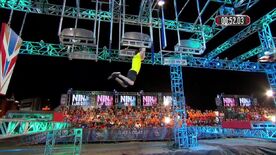 The En Garde is an obstacle, firstly introduced as the second obstacle in Stage Three on American Ninja Warrior 10, replacing the Keylock Hang from the past two American Ninja Warrior seasons.
The obstacle was comprised of an expendable bar, which was utilized to move across three tracks, with a gap between one track to the other (in a similar fashion to the Stair Hopper). Each gap had a stopper placed in the middle of the gap, blocking the way for the bar to make the transition easier. Also, the three tracks differed in gap, therefore competitors would make a mid-air transition to the next two tracks by retracting and expanding the bar in mid-air.
On the first transition, the second track was higher than the first track, and the second track had a smaller gap than the first track. On the second transition, the third track was placed lower than the second track, and the third track had a larger gap than the second track. In addition, the third track had a stopper placed at the end of the track to prevent the bar from sliding off.
In concept, the obstacle was intended to test the mental skill of the competitors. Despite that, both Drew Drechsel and Sean Bryan completed the obstacle. However, during USA vs. The World 5, it eliminated Katie McDonnell from Team Europe.
On American Ninja Warrior 11, the obstacle was replaced by the Iron Summit.
Competitors' Success Rate
All results based on the NBC broadcast and external information found
Trivia
The name of this obstacle came from a French term meaning "on (your) guard", which also a term used in fencing.
The prototype version of this obstacle consisted of three tracks having the same gap, but the producers would eventually adjust the gap of the second track.
External Links