Drum Hopper (ドラムホッパー) is a Third Stage obstacle first introduced in SASUKE 30 as the third obstacle, relocating Crazy Cliffhanger to the fourth obstacle. It consisted of ten drums, with two parallel rows of five drums each, 1.2 metres apart. Competitors must support their body on one pair of parallel drums and hopped to the next pair and so on, hence the name. A beam of light would light up on every pair of drums as the competitors progressed on the obstacle, signifying that the competitors had cleared the drums.
Like Iron Paddler, which placed as the second obstacle during this obstacle's appearance, it also tested on the competitors' triceps, in order to make them running out of energy prior to attempting Crazy Cliffhanger. However, it had potential to be deadly on its own, as some competitors shown struggle attempting this, with few of them even slipped on the drums.
In SASUKE 31, it was moved to the first obstacle and the landing platform was smaller compared to the previous tournament. However, this modification didn't last long due to Morimoto Yūsuke's Kanzenseiha in that tournament, as it was replaced by Drum Hopper Kai in SASUKE 32.
Drum Hopper Kai
Drum Hopper Kai (ドラムホッパー改) was introduced in SASUKE 32 as part of the course renewal after Morimoto Yūsuke's Kanzenseiha in the previous tournament. It still consisted of ten drums, two parallel rows with five drums each, but now it was increasing 10 cm in height from the first to the fifth drums, making the height of the fifth drums being 40 cm higher than the first drums. To compensate this, the gap between each drums was reduced to 1 metre.
The obstacle eliminated no one despite some slip-ups, most notably Ragivaru Anastase, who almost failed on it in its debut tournament due to the poor weather conditions on the obstacle prior to his run, making it slicker.
Despite the mentioned struggles, due to its 100% clear rate, it was replaced by the relocated Flying Bar in SASUKE 35, which moved in placement due to the introduction of Planet Bridge.
Other Appearances
SASUKE Ninja Warrior Mongolia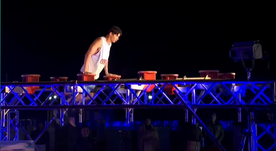 On SASUKE Ninja Warrior Mongolia, the Drum Hopper made its first international appearance outside of SASUKE, appearing as the second obstacle in Stage Three. In terms of appearance, the number of drums present are eight, two parallel rows with four drums each, all of these are equal at height. In its appearance, there have been instances where competitors fell on the obstacle, an situation that never happened in SASUKE.
Competitors' Success Rate
All results based on the TBS broadcast and external information found.
Drum Hopper
SASUKE
Clears
Attempts
Percentage
30
9
9
100%
31
8
8
100%
Total
17
17
100%
Drum Hopper Kai
SASUKE
Clears
Attempts
Percentage
32
8
8
100%
33
5
5
100%
34
9
9
100%
Total
22
22
100%