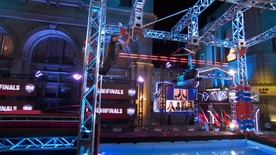 The Drop Zone is an obstacle, firstly introduced as the fifth obstacle in third episode of semifinals on American Ninja Warrior 13.
It consisted of three various components in which competitors must hold onto. Competitors would have to:
Rotate the first bar in a counter-clockwise direction, which would lead to the bar falling vertically. Once the bar dropped down, they must use the ledge embedded on the end of the bar to make a transition to the second component,
From there, they must hold on to a horizontal bar in which competitors must rotate in a clockwise direction, this component would once again drop once it is rotated enough,
Once the bar drops down, they must make a transition to the third component which is similar to the first component. Then, as the bar drops down vertically, they must use the ledge embedded on the bar to allow competitors to make the dismount.
This obstacle proved to be dangerous, as the bar would have the tendency to drop suddenly which led to the bar hitting competitor's heads without prior notice. Sean Bryan and David Campbell suffered large cuts on their heads while attempting the obstacle, and many others were also hit. Even though Bryan managed to clear the obstacle, Campbell ultimately failed the dismount.
Depiste this hazard, the obstacle was again used in the fourth semifinal episode, with the producers instead opting to add a small foam cushion at the center of the bar to alleviate head injuries. Most competitors in this episode rotated the bar from the outside so it would not fall directly towards them.
Amidst the dangers involved, this obstacle eliminated five competitors during the third semifinal episode, which were Vinnie Castranova, Brittney Durant, Jose Gomez, Todd Bourgeois and as aforementioned, David Campbell. During the fourth semifinal episode, the obstacle eliminated eight competitors, which included Heather Weissinger, Ava Colasanti, Taylor Amann, Marquez Green, Nathan Green, and Brian Beckstrand. In both of its appearances, it serves as a cut-off for the top 3 women.
Competitors' Success Rate
All results based on the NBC broadcast and external information found
| ANW | Clears | Attempts | Percentage |
| --- | --- | --- | --- |
| ANW13 (SF EP 3) | 20 | 25 | 80% |
| ANW13 (SF EP 4) | 26 | 34 | 76.47% |
| Total | 46 | 59 | 77.97% |