The Dragonback is an obstacle, firstly introduced as the ninth obstacle during the finals on American Ninja Warrior 12.
It consisted of two sets of parabolic tracks. The first half of each of the track consisted of stairs in which competitors must hop the bar across it (in a similar manner to the Stair Hopper). The second half of each of the track consisted of a similar track from the Big Dipper, Double Dipper, and Dragon Glider in which competitors must slide the bar to reach bungee cords at the end of each track. This obstacle also featured a rotating wall at the end before the landing platform, similar to Sideways.
The obstacle was proven to be somewhat difficult, as it took out five competitors: Flip Rodriguez, Cameron Baumgartner, Jamie Rahn, R.J. Roman, and Amir Malik. The Dragonback served as the cut-off for the Power Tower playoff, as one competitor who failed on the obstacle, Amir Malik, made the top 8 (since he got there faster than all other competitors who failed on it).
An interesting fail occurred during Cameron Baumgartner's run. He reached the end of the obstacle and hopped the bar over the dragon's head. However, he didn't let go of the bar, so the safety cord on the bar pulled him back over the water, immediately disqualifying him.
Other Appearances
Australian Ninja Warrior
The Dragonback (stylized as the Dragon Back) appeared as the fifth obstacle during the semifinals on Australian Ninja Warrior 5. This obstacle ended many runs, including Ben Polson and Daniel Mason.
In both Semifinal 1 and Semifinal 2, every competitor who reached this obstacle advanced to the grand final.
Ninja Warrior Germany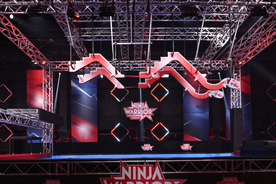 The Dragonback also appeared as the fourth obstacle of Stage Two during Ninja Warrior Germany 6. This obstacle would eliminate almost half of the field of competitors who attempted the stage, as 13 out of 28 competitors fell on the obstacle alone.
Competitors' Success Rate
All results based on the NBC broadcast and external information found
| ANW | Clears | Attempts | Percentage |
| --- | --- | --- | --- |
| ANW12 | 7 | 12 | 58.33% |
| Total | 7 | 12 | 58.33% |
Trivia
This obstacle could be considered a cross between the Stair Hopper and Slingshot.
External Links