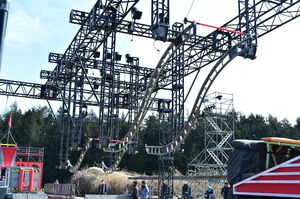 The Dragon Glider (ドラゴングライダー) is an obstacle introduced in SASUKE 35's First Stage, replacing the Double Pendulum. It also indirectly removed the Tarzan Rope and Lumberjack Climb, due to space constraint and the length of the obstacle.
Competitors must jump from a trampoline and grab a bar which will slide down on a wavy rail track. At the end of the first track, competitors must jump over a large gap and grab onto a second bar that slides down another wavy track, and finally land on the landing platform on the other side.
The Dragon Glider has exactly the same function as the Double Dipper, which was firstly used as the third obstacle on American Ninja Warrior 9 in Stage One. However, unlike the Double Dipper, the Dragon Glider has a trampoline at the starting platform, requiring competitors to jump from the trampoline and reach the first bar. In addition, the distance between the first and second wavy tracks is closer than the original counterpart, with the tracks slightly differ in design.
The obstacle did major damage in its debut. It took 60 competitors to complete this obstacle (with Hioki Masashi became the first competitor to clear it), which was even more than the Jumping Spider in SASUKE 19. Notably, most of the competitors failed to reach the first bar from the trampoline. It continued to be brutal in SASUKE 36 and SASUKE 37, taking out many competitors.
So far, some top competitors have failed this obstacle, which were Matsuda Daisuke, Kanno Hitoshi (twice), Takeda Toshihiro, Takahashi Kenji, Tsukada Ryoichi, Nagasaki Shunsuke, Yamamoto Shingo and Darvish Kenji.
KUNOICHI Appearance

The Dragon Glider appears as the fifth obstacle during the RED Stage (First Stage) in KUNOICHI 11, replacing the Double Pendulum. However, the obstacle features just 1 track instead of 2 (similar to the Big Dipper, which is the original incarnation of the Dragon Glider and Double Dipper).
Similar to its appearance in SASUKE 35, the obstacle was proven to be brutal, as the competitors who failed on this obstacle either failed to reach the bar from the trampoline or lost their grip at the end of the track.
Competitors' Success Rate
All results based on the TBS broadcast and external information found
SASUKE
| SASUKE | Clears | Attempts | Percentage |
| --- | --- | --- | --- |
| 35 | 11 | 39 | 28.20% |
| 36 | 20 | 44 | 45.45% |
| 37 | 19 | 34 | 55.88% |
| Total | 50 | 117 | 42.74% |
KUNOICHI
| KUNOICHI | Clears | Attempts | Percentage |
| --- | --- | --- | --- |
| 11 | 14 | 26 | 53.84% |
| Total | 14 | 26 | 53.84% |
Community content is available under
CC-BY-SA
unless otherwise noted.