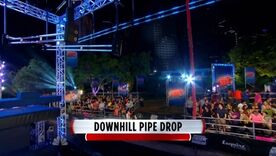 The Downhill Pipe Drop is an obstacle, firstly introduced as the second obstacle on American Ninja Warrior 6 in Miami.
Competitors must slide the red pipe, then time their release to grab the rope, and then transition to the landing platform to advance.
This obstacle took out notable competitors like Chris DiGangi, Dan Leach, and Desiree Walker during Miami qualifiers. Since there were 42 competitors who completed the Miami qualifiers course, during Miami finals, the rope was placed six inches further than during Miami qualifiers. As a result, the obstacle proved to be more dangerous in the city finals, as it took out 6 competitors. This included Dustin Sanderson, Gabriel Arnold, and Felix Chu. Most shockingly, this obstacle also took out Drew Drechsel, which served as his earliest exit from any Ninja Warrior competition (including SASUKE).
A similar obstacle known as the Big Dipper would later appear as the second obstacle on American Ninja Warrior 7 in Kansas City and American Ninja Warrior 8 in Atlanta, except the track was curved and the rope was replaced with a cargo net.
Other Appearances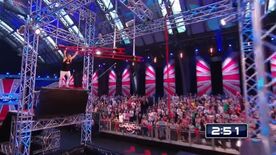 The Downhill Pipe Drop appeared as the second obstacle during the finals' Stage 1 on Ninja Warrior UK and Ninja Warrior UK 2. However, the obstacle was called as the Pipe Slider (not to be confused with the Pipe Slider from SASUKE).
On Ninja Warrior UK, the obstacle took out 3 out of 14 competitors who attempted it, including Katie McDonnell (who was the only woman to reach the finals). While on Ninja Warrior UK 2, the obstacle took out Corbin Mackin (who was the only competitor to fail at this obstacle).
External Links