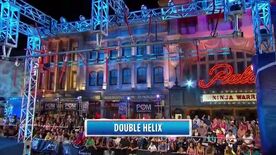 The Double Helix is an obstacle, firstly introduced as the ninth obstacle during Orlando finals on American Ninja Warrior 7, It consists of two center axes, one after the other, each with 8 rods per axis (with a total of 16 rods) sticking out of them forming two helices. On this obstacle:
Competitors must traverse the first helix's rods with their hands, causing it to rotate counter-clockwise.
Then, they must make a transition to the second helix and traverse its rods, causing it to rotate clockwise, until they are close enough to jump to the landing mat.
During Orlando finals, seven competitors attempted this obstacle and five of them completed it, including James McGrath, Flip Rodriguez, and Drew Drechsel. However, Drew made a unique and risky dismount at the obstacle by facing the obstacle backward. As the result, he almost lost his balance and his feet almost tapped the water. However, he was able to hang on and save himself.
Other Season Appearances
American Ninja Warrior 8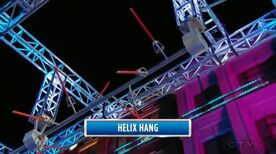 The Double Helix (renamed as the Helix Hang) returned on American Ninja Warrior 8, as the ninth obstacle during Los Angeles finals, with a similar specification from Orlando finals on the previous season.
However, due to the brutality from the previous obstacle (The Wedge), only two competitors (Jessie Graff and Josh Levin) attempted this obstacle, and while Jessie Graff failed to complete it, Josh Levin became the only competitor who could complete it.
Competitors' Success Rate
All results based on the NBC broadcast and external information found
| ANW | Clears | Attempts | Percentage |
| --- | --- | --- | --- |
| ANW7 | 5 | 7 | 71.43% |
| ANW8 | 1 | 2 | 50% |
| Total | 6 | 9 | 66.67% |
Trivia
The Double Helix/Helix Hang appeared when the city finals course was taped in Universal Studios (Universal Orlando Resort during Orlando finals on American Ninja Warrior 7 and Universal Studios Hollywood during Los Angeles finals on American Ninja Warrior 8).
Despite Jessie Graff fell on this obstacle during American Ninja Warrior 8's Los Angeles finals, her performance at that time put her in the second place among all of the competitors. This marked the highest rank a woman ever placed during city finals in American Ninja Warrior history by date.
External Links
Community content is available under
CC-BY-SA
unless otherwise noted.