(13 intermediate revisions by one other user not shown)
Line 1:
Line 1:
 
+

[[File:ANW10_Doorknob_Drop.jpg|thumb|276px|American Ninja Warrior 10's Doorknob Drop in Los Angeles]]

 

The '''Doorknob Drop''' is an obstacle, firstly introduced as the fifth obstacle on [[American Ninja Warrior 10]] in Los Angeles.

 

The '''Doorknob Drop''' is an obstacle, firstly introduced as the fifth obstacle on [[American Ninja Warrior 10]] in Los Angeles.

 
 
 

It featured 2 boomerang-shaped boards, with the second half of the first board facing each other with the first half of the second board. Each board contained a different number of doorknobs (17 doorknobs on the first board and 10 doorknobs on the second board). The first board was symmetrical, while the second board had its first half much shorter than its second half.

 

It featured 2 boomerang-shaped boards, with the second half of the first board facing each other with the first half of the second board. Each board contained a different number of doorknobs (17 doorknobs on the first board and 10 doorknobs on the second board). The first board was symmetrical, while the second board had its first half much shorter than its second half.

 
 
−

Competitors must climb up a rope to reach the first board. Then, they must use their upper-body to traverse the first board's doorknobs (in a similar fashion with the [[Doorknob Arch]]). After that, they must make the transition to the second board by turning their body around, then traversed the second board's doorknobs, and finally made the dismount to the landing platform. When the competitors made the transition from the first half to the second half of each board, it would tilt in favor of their weight. Also, several doorknobs were stationary, while others would rotate when the competitors grabbed on them (similar to the [[Doorknob Grasper]]).

+

Competitors must climb up a rope to reach the first board. Then, they must use their upper-body to traverse the first board's doorknobs (in a similar fashion with the [[Doorknob Arch]]). After that, they must make the transition to the second board by turning their body around, then traversed the second board's doorknobs, and finally made the dismount to the landing platform. When the competitors the of each board, it would tilt in favor of their weight. Also, several doorknobs were stationary, while others would rotate when the competitors grabbed on them (similar to the [[Doorknob Grasper]]).

 
 
−

During Los Angeles qualifiers, the obstacle was proven to be brutal, as it took out many top competitors, including [[Flip Rodriguez]], [[Kevin Bull]], [[Grant McCartney]], [[Gabe Hurtado]], [[Tiana Webberley]] and [[Zhanique Lovett]]. Only 10 competitors were able to complete the obstacle.

+

During Los Angeles qualifiers, the obstacle was proven to be brutal, as it took out many top competitors, including [[Flip Rodriguez]], [[Kevin Bull]], [[Grant McCartney]], [[Gabe Hurtado]], [[Tiana Webberley]] and [[Zhanique Lovett]]. 10 competitors were able to complete the obstacle.

 
+
 
+

During Los Angeles finals, the obstacle was made easier by drastically reducing the speed of the drop and one doorknob at the first board was modified. As the result, only [[Zhanique Lovett]] fell on the obstacle.

 
 
 

[[File:CNW2_Doorknob_Drop.jpg|thumb|276px|The Doorknob Drop during Celebrity Ninja Warrior: Red Nose Day 2]]

 

[[File:CNW2_Doorknob_Drop.jpg|thumb|276px|The Doorknob Drop during Celebrity Ninja Warrior: Red Nose Day 2]]

−

The Doorknob Drop was attempted early during [[Celebrity Ninja Warrior: Red Nose Day 2]]. However, the number of doorknobs was reduced to 22 (13 doorknobs on the first board and 9 doorknobs on the second board), and the doorknobs were more peg-like and stationary. Among the 5 celebrity competitors who attempted the obstacle, only Derek Hough failed to complete it.

+

The Doorknob Drop was attempted early during [[Celebrity Ninja Warrior: Red Nose Day 2]]. However, the number of doorknobs was reduced to 22 (13 doorknobs on the first board and 9 doorknobs on the second board), and the doorknobs were more peg-like and stationary. Among the 5 celebrity competitors who attempted the obstacle, only Derek Hough failed to complete it.

 
+
 
+
 
+
 
+

{{clear}}

 
+

==Other Appearances==

 
+

==='''Australian Ninja Warrior'''===

 
+

[[File:AusNW4_Doorknob_Drop.png|thumb|276px|Australian Ninja Warrior 4's Doorknob Drop]]

 
+

On [[Australian Ninja Warrior 4]], the Doorknob Drop appeared as the fourth obstacle in Heat 1 and Heat 2. This time, the obstacle featured eight doorknobs on the first board and six doorknobs on the second board.

 
+
 
+

Similar to the one that happened during Los Angeles qualifiers on [[American Ninja Warrior 10]], the obstacle was proven to be brutal, as only eleven competitors completed this obstacle across two heats (eight competitors in Heat 1 and three competitors in Heat 2). The obstacle was served as the cut-off for the competitors in those two heats to advance to the semifinals.

 
+
 
+

{{clear}}

 
+

==Competitors' Success Rate==

 
+

*All results based on the NBC broadcast and external information found

 
+

{| class="wikitable sortable zebra" width="100%"

 
+

! style="background-color: #4D0503;" width="20%" |ANW

 
+

! style="background-color: #4D0503;" width="20%" |Clears

 
+

! style="background-color: #4D0503;" width="30%" |Attempts

 
+

! style="background-color: #4D0503;" width="30%" |Percentage

 
+

|-

 
+

|[[American Ninja Warrior 10|ANW10]] (qualifiers)

 
+

|10

 
+

|37

 
+

|27.03%

 
+

|-

 
+

|[[American Ninja Warrior 10|ANW10]] (finals)

 
+

|24

 
+

|25

 
+

|96%

 
+

|-

 
+

|Total

 
+

|34

 
+

|62

 
+

|54.84%

 
+

|}

 

[[Category:American Ninja Warrior 10]]

 

[[Category:American Ninja Warrior 10]]
---
Revision as of 04:59, 2 August 2020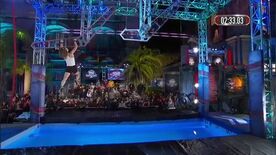 The Doorknob Drop is an obstacle, firstly introduced as the fifth obstacle on American Ninja Warrior 10 in Los Angeles.
It featured 2 boomerang-shaped boards, with the second half of the first board facing each other with the first half of the second board. Each board contained a different number of doorknobs (17 doorknobs on the first board and 10 doorknobs on the second board). The first board was symmetrical, while the second board had its first half much shorter than its second half.
Competitors must climb up a rope to reach the first board. Then, they must use their upper-body to traverse the first board's doorknobs (in a similar fashion with the Doorknob Arch). After that, they must make the transition to the second board by turning their body around, then traversed the second board's doorknobs, and finally made the dismount to the landing platform. When the competitors reached the end of each board, it would tilt in favor of their weight, creating a drop that tested their grip strength. Also, several doorknobs were stationary, while others would rotate when the competitors grabbed on them (similar to the Doorknob Grasper).
During Los Angeles qualifiers, the obstacle was proven to be brutal, as it took out many top competitors, including Flip Rodriguez, Kevin Bull, Grant McCartney, Gabe Hurtado, Tiana Webberley and Zhanique Lovett. In total, 27 competitors fell on this obstacle and only 10 competitors were able to complete the obstacle.
During Los Angeles finals, the obstacle was made easier by drastically reducing the speed of the drop and one doorknob at the first board was modified. As the result, only Zhanique Lovett fell on the obstacle.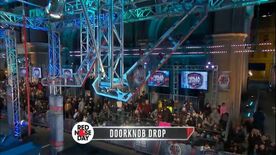 The Doorknob Drop was attempted early during Celebrity Ninja Warrior: Red Nose Day 2. However, the number of doorknobs was reduced to 22 (13 doorknobs on the first board and 9 doorknobs on the second board), and the doorknobs were more peg-like and stationary. Among the 5 celebrity competitors who attempted the obstacle, only Derek Hough failed to complete it.
Other Appearances
Australian Ninja Warrior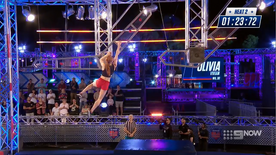 On Australian Ninja Warrior 4, the Doorknob Drop appeared as the fourth obstacle in Heat 1 and Heat 2. This time, the obstacle featured eight doorknobs on the first board and six doorknobs on the second board.
Similar to the one that happened during Los Angeles qualifiers on American Ninja Warrior 10, the obstacle was proven to be brutal, as only eleven competitors completed this obstacle across two heats (eight competitors in Heat 1 and three competitors in Heat 2). The obstacle was served as the cut-off for the competitors in those two heats to advance to the semifinals.
Competitors' Success Rate
All results based on the NBC broadcast and external information found
| ANW | Clears | Attempts | Percentage |
| --- | --- | --- | --- |
| ANW10 (qualifiers) | 10 | 37 | 27.03% |
| ANW10 (finals) | 24 | 25 | 96% |
| Total | 34 | 62 | 54.84% |
Community content is available under
CC-BY-SA
unless otherwise noted.