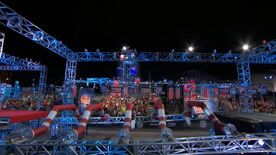 The
Domino Pipes
is an obstacle, firstly introduced as the seventh obstacle in Stage One on
American Ninja Warrior 9
, replacing the
Broken Bridge
from
American Ninja Warrior 8
, which only eliminated one competitor (Chris Boehm).
Competitors must run across 5 ascending top-heavy spinning pipes that would topple when the competitors stepped on them. Balance was served as a key aspect to completing this obstacle, as several competitors tripped at the fifth pipe and got hung up and lost valuable time, including Chris DiGangi and Brandon Pannell. However, a good amount of them could reach the landing platform and complete the obstacle.
Although this obstacle was proven to be harder than its predecessor (the Broken Bridge), just like its predecessor, almost all of the competitors who reached this obstacle could complete it, as only Karsten Williams and Meagan Martin failed. In Meagan Martin's case, her time ran out after completing the previous obstacle (the Warped Wall), therefore didn't have a chance to attempt the obstacle.
During USA vs. The World 4, the Domino Pipes shockingly took out Joe Moravsky from Team USA (when he slipped at the fourth pipe and fell), as well as Kawaguchi Tomohiro from Team Asia.
Because of its low knockout rate, the obstacle was replaced by the Razor Beams on the next season.
Competitors' Success Rate
All results based on the NBC broadcast and external information found
Trivia
Community content is available under
CC-BY-SA
unless otherwise noted.