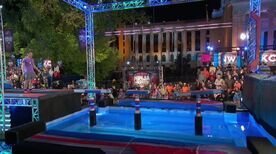 The Diving Boards is an obstacle, firstly introduced as the fourth obstacle on American Ninja Warrior 11 in Oklahoma City.
It consisted of three boards, each was supported by a spring in the middle, and the second board was made shorter than the other two boards. Competitors must run across the boards to reach the landing platform.
During Oklahoma City qualifiers, this obstacle was proven to be challenging, taking out 25 competitors, including Mike Murray, Kevin Klein, Brittany Hanks, Venn Johns, and Quest O'Neal. One major source of error came from not stepping in the middle of the board platforms. Because the boards were supported by a spring in the middle, many competitors would fall from stepping too far on the left or right side of the boards. This would cause the boards' axis of rotation to shift, and as a result, would interfere with competitors' momentum.
During Oklahoma City finals, the obstacle only eliminated Chris Talon Green. Also, there were two notable completions on the obstacle:
Jeff Harris: Rather than running across the three boards, he instead took a slow approach where he walked across each board in a sideways surfboard-like stance.
Maggi Thorne: She stumbled on the third board, bruising her face. She struggled to recover, but was ultimately able to reach the landing platform and finish the obstacle.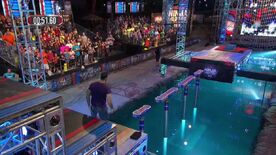 Later on the same season, the Diving Boards reappeared as the seventh obstacle in Stage One, replacing the Razor Beams from the previous season. This time, the obstacle featured four boards instead of three.
The obstacle retained the difficulty from its appearance in Oklahoma City, as eight competitors failed there. This included Brandon Mears, Caleb Bergstrom, Trevor West, and Travis Rosen (on his final American Ninja Warrior appearance). It also was responsible for originally taking out Flip Rodriguez, who used his Safety Pass (which he earned during Los Angeles finals) and later completed it.
Competitors' Success Rate
All results based on the NBC broadcast and external information found
| ANW | Clears | Attempts | Percentage |
| --- | --- | --- | --- |
| ANW11 (qualifiers) | 35 | 60 | 58.33% |
| ANW11 (finals) | 30 | 31 | 96.77% |
| ANW11 (Stage One) | 37 | 45 | 82.22% |
| Total | 102 | 136 | 75% |
Trivia
The Diving Boards had a similar concept to the Balance Bridge, in which both obstacles involved platforms that were supported by a middle force. For these reasons, both obstacles also involved tilting as a method of tripping competitors' momentum.
The Diving Boards had also a similar concept to the Tuning Forks, as they both consisted as balance obstacles composed of three separate objects that competitors must run across. Both obstacles had also taken out Kevin Klein, Brittany Hanks, Adam Naids, and James Gross.
The Diving Boards is the first obstacle to be introduced during a regional and then reappear on the same season on Stage One.
Community content is available under
CC-BY-SA
unless otherwise noted.