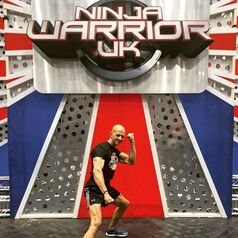 Dion Trigg is an athlete and devoted Sasuke superfan who has competed twice on Ninja Warrior UK. He is notable for having built one of the first Ninja Warrior gyms in the United Kingdom: True Function - Ninja Training Ground, and is easily one of, if not the most dedicated UK Ninja currently active. He has also competed as an international competitor on SASUKE Vietnam, as well as in the National Ninja League in the USA. He is also well known for having named his daughter Sasuke, showing clearly his commitment to the sport.
As a dedicated fan of Ninja Warrior, Dion made his debut in the very first Ninja Warrior UK competition, determined to make an impact. In the first Heat, he made a strong start, becoming one of seven to clear the course and advancing to the Semi-Finals. In the 2nd Semi-Final however, disaster struck when Dion unexpectedly failed the Jump Hang, an obstacle he had beaten easily in the Heats, eliminating him from the competition.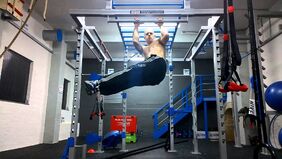 Despite him not competing in the
2nd Ninja Warrior UK Competition
, Dion made a comeback in the third, having lost thirty-five pounds between tournaments and looking stronger than ever. He appeared in the fourth heat, blazing through the upgraded course with ease and clearing with the 3rd fastest time of the episode, advancing him to the Semi-Finals once more. In the Semi-Finals, Dion performed valiantly, taking revenge on the Jump Hang and scaling the Spider Climb to clear the course once more. Unfortunately however, despite making the top fifteen immediately following his run, he was later knocked off the leaderboard by other, faster finishers, dropping him down to 20th overall and denying him a spot in the Final.
SASUKE Vietnam
Dion also competed as an international competitor in SASUKE Vietnam 2, being the only representative for UK alongside twenty-seven other international competitors coming from countries such as USA, Japan and Taiwan.
He also completed again in SASUKE Vietnam 4, but sadly he fell at Hedgehog.
SASUKE Appearance
Dion also competed on SASUKE 34 as Ninja Warrior UK's representative, wearing 75. His run was digested. He did well on the first three obstacles until he fell on the Fish Bone.
Community content is available under
CC-BY-SA
unless otherwise noted.