Derek Hough is an American professional dancer, choreographer, singer and actor who most notably competed on shows like Dancing with the Stars. Hough was one of many celebraties to compete on Celebrity Ninja Warrior: Red Nose Day, being trained by Daniel Gil.
Hough managed to complete both the Floating Steps and Cannonball Drop, but fell on the Fly Wheels on the third wheel. However, Hough made a second attempt to complete the Fly Wheels, and as a result, was able to complete it. He later got past Block Run, and was the first to use the proper technique on the Battering Ram, kipping while hanging onto the cylinders. Finally, he finished the course by completing the Warped Wall. Hough is one of only 3 celebrities to complete all six obstacles on the course, along with Ashton Eaton and Stephen Amell. His completions resulted in a total of $30,000 being donated for Red Nose Day.
Hough later made his second guest appearance on Celebrity Ninja Warrior: Red Nose Day 2, where he trained with Meagan Martin this time around. He also was the only returning celebrity from the last Red Nose Day special. Hough sailed through the first four obstacles with ease, with but ultimately fell on the second board on Doorknob Drop. Though Hough was able to raise $20,000 from his completion of the first four obstacles, he donated $10,000 himself for the occasion. Because of this, Hough raised a total of $30,000 once again for Red Nose Day.
Hough currently stars as one of three judges in World of Dance, which just like American Ninja Warrior, is also broadcasted on NBC. Ne-Yo, another judge on World of Dance, also competed alongside Hough in Celebrity Ninja Warrior: Red Nose Day 2.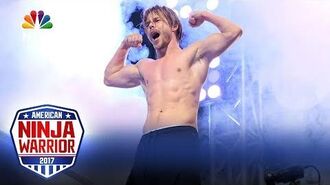 Community content is available under
CC-BY-SA
unless otherwise noted.