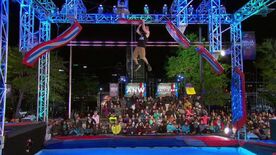 The Dangerous Curves is an obstacle, firstly introduced as the third obstacle on American Ninja Warrior 11 in Baltimore.
Competitors must grab the first board (the S-shaped board) placed on a upward-angle incline and climb it up to reach the top. Then, they must make the transition to the second board (shaped like a hourglass) and rotate it on a counter-clockwise direction to reach the other side. From there, they must grab and work their way across the next two boards placed on a downward-angle incline with a 16-inch gap between the boards. Finally, they must make the dismount from the fourth board to the landing platform.
The obstacle was proven to brutal during Baltimore qualifiers, as 33 competitors fell on it. This includes several top competitors like Jon Alexis Jr., Miles Avery, Cara Poalillo, Karter Ohlson, Casey Rothschild, Taylor Johnson, Tamika Catchings, Nick Green, Brandon Singletary, and Desi Singletary. This obstacle was also the cut-off for the top 5 female competitors for advancing to Baltimore finals. The obstacle also took out the most competitors out of any city qualifier obstacle that season.
During Baltimore finals, only Cara Poalillo and Tristan Poffenberger fell on the obstacle.
Competitors' Success Rate
All results based on the NBC broadcast and external information found
| ANW | Clears | Attempts | Percentage |
| --- | --- | --- | --- |
| ANW11 (qualifiers) | 38 | 71 | 53.52% |
| ANW11 (finals) | 32 | 34 | 94.12% |
| Total | 70 | 105 | 66.67% |
Trivia
The Dangerous Curves shared similar qualities to several obstacles:
External Links